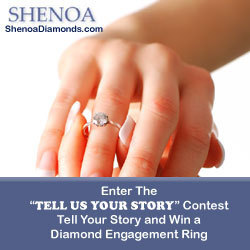 What better way to show your customers that you appreciate their confidence and business, than by having a contest to give something back
New York, NY (PRWEB) May 3, 2010
ShenoaDiamonds.com announces a contest to give away a 1-carat Diamond Engagement Ring valued at $5,000. We have seen an upturn in the Jewelry market. This March was one of the best months for sales in over 3 years. Online sales went up approximately 600% compared to the same period in 2009. "We can attribute some of our growth to opening a closeout section. Selling limited stock and discontinued items at discounts up to 80%," states Konstantine Bitelman, Manager for ShenoaDiamonds.com. With an increase in consumer confidence, "Now more than ever it is vital to give back and show your customers how much you appreciate their business," said Konstantine, "What better way to show your customers that you appreciate their confidence and business, than by having a contest to give something back."
Entry Details:
Those interested in entering the contest need only follow these simple steps: 1) Write in 30 words or more about your love and why it would be nice to win a Diamond Engagement Ring. 2) Post your entry to your web site/social page/blog and mention the contest is being held by ShenoaDiamonds.com. 3) Visit our diamond contest page and fill out an entry form. Winners will be selected at random from eligible entries and announced to all.
Other prizes to be given away in ShenoaDiamonds's contest, include a second-place prize of ½-carat diamond stud earrings set in 18K white gold, valued at $1,400. A third place winner will receive ¼-carat diamond earrings, valued at $650. Seven(7) runner ups will receive a $50 gift card.
ShenoaDiamonds.com is an established online retail jewelry company and has been in business over 30 Years. The company provides diamonds to some of the top personalities and businesses worldwide. Shenoa & Co. is an authorized retailer for Verragio and showcases items created by our renowned in-store designer Kerry Ryan.
ShenoaDiamonds.com offers a wide range of loose diamonds, ring settings, earrings, necklaces and pendants. Creating many items in-house provides excellent savings to the customer.
For more information, visit ShenoaDiamonds.com. Information about ShenoaDiamonds's diamond ring contest is available on our contest page. Find more daily updates at twitter.com/ShenoaDiamonds
###