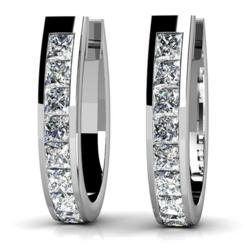 San Diego, CA (PRWEB) April 30, 2012
Give the newly engaged some jewelry gifts to treasure a lifetime!
Leading jewelry manufacturer, Anjolee, offers their go-to-guide for getting the perfect gift for a newly engaged couple. With the current wedding season about to start, there are many newly engaged couples waiting to complete their vows later in the year. With months of planning ahead, a simple gift of jewelry can be exactly what is needed. The gift of jewelry is a way to celebrate an engagement while building more excitement for the wedding day.
A great pair of channel set Diamond Hoop Earrings can be given to the bride to complete the wedding day look or as a pre-wedding delight. A traditional prong set pair of hoop earrings is a low key addition to classical wedding style attire. For modern brides, a pair of diamond and gemstone hoop earrings might be a better option. Customized with any birthstone, these personalized accessories will add a great amount of sparkle and pleasure. For vintage lovers, a pair of vintage inspired hoops can help create a specific look. Anjolee offers many new designs that have millgrain details, contributing to its modern, antique appeal. The 'Vintage Edge Diamond Band' has stones set along the top and sides, giving it an incredible sparkle.
Offering to help with the wedding expenses is a stress reliever for the engaged couple. One way to accomplish this is help complete the couples' wedding ring sets. Typically, the bride will wear already have an Engagement Ring and will receive the wedding band during the ceremony. The two rings encompass the brides' complete wedding set. A groom will typically only wear a diamond band, presented at the wedding. With the rising costs of modern day weddings, offering to help the couple with this expense is something anyone can appreciate.
To accurately match an engagement ring with a diamond band, measure the millimeter width and height to make sure they will line up well and sit nicely on the finger. Next, look for a style that complements the engagement ring. With these tips, the bride and groom to be will be eternally grateful for the extreme thoughtfulness that went into selecting the gift.