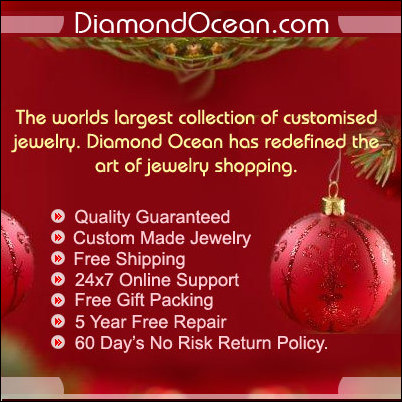 Sales are expected to go up by 300 percent this Christmas season.
(PRWEB) December 15, 2006
New online retailer DiamondOcean.com has improved the way in which a man or woman purchases an engagement ring or other high quality diamond jewelry by introducing the idea of complete customization. People can now tinker around with different ideas and designs until they finalize on one, and only after their approval is given does a design go into production, says Meenaskshi Banker, a spokesperson for the company.
"We wanted to make diamond jewelry more accessible, so we decided to change the way jewelry was bought and sold," Banker said. "Sales are expected to go up by 300 percent this Christmas season."
Consumers are showing a great deal of interest in the diamond solitaire engagement ring collection and the ½ karat and 1 karat diamond jewelry are already selling like hotcakes, she added.
DiamondOcean.com is an e-commerce website hosted by Marquise Gems Pvt. Ltd. The company is located in India from where it manufactures and retails jewelry like diamond earrings, diamond necklaces, diamond pendants, bracelets and charms, bangles, watches, complete diamond sets and loose diamonds -- as well as a huge engagement ring collection. Although the production quality is high, the pricing is comparatively low -- which is a big bonus of being based in a low labor cost country. The company is making most of the fact that it is not financially viable for other retailers to sell their jewelry at such low prices because of being based in developed nations and the overpriced maintenance that comes along with it.
DiamondOcean.com has also revolutionized the way jewelry is customized by taking it a couple of steps further. Other retailers, at the most, let their customers change the size of the diamond, but at DiamondOcean.com the customer gets the complete freedom to choose amongst all the 4 C's that make diamonds what they are, viz. the cut, clarity, color and carat. Buyers can also choose between different precious metals like gold, silver and platinum. The customization doesn't end there, as consumers can also send in their own designs or contact the company and have their jewelry custom made, and all this is done free of cost. The average time span for manufacturing a custom made piece of jewelry is about 5 days. More and more buyers are going for customized high quality diamond jewelry because of the huge savings it offers.
In addition to being engagement ring experts, DiamondOcean.com is also a direct dealer of loose diamonds for those interested in buying them in bulk. Loose diamonds are a good investment and a good form of liquid assets.
For further information contact:
Ramachandra Kumar BNV
DiamondOcean.com
Marquise Gems Prvt Ltd
Website: http://www.DiamondOcean.com
Toll Free:
1-800-554-5808 (USA)
2-080-99-7768 (UK)
18-0022-2232 (India)
###