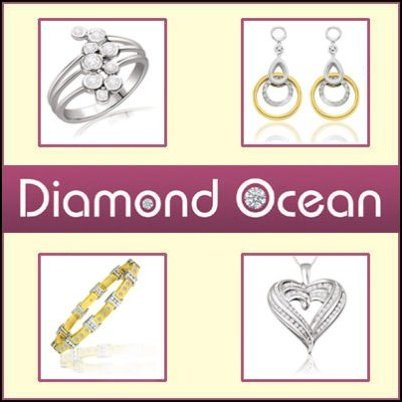 (PRWEB) January 18, 2007
Diamond jewelry partisans have reason to be happier this year as DiamondOcean.com just became a formidable manufacturer, inaugurating a hi-tech unit after receiving an overwhelming response from customers worldwide.
Normally a manufacturer deals only in bulk orders and with wholesalers. Because of the way their infrastructure is designed it is only profitable for them to undertake large quantity orders without the possibility of customizing them. DiamondOcean is a custom made jewelry manufacturer that follows a different strategy that allows for them to undertake large orders as well as small orders. They offer custom made jewelry for even a single piece, and that too at a wholesale price in a turnaround time of no more than a week. So whether the requirement is 1,000 pieces of the same design or 10 pieces of different designs, DiamondOcean is a jewelry supplier capable of handling both orders efficiently. Mid-sized and smaller retailers now have the option to bypass wholesalers and distributors to design their own custom made diamond jewelry of better quality, at a lower price tag and with faster resolution time.
M. Banker, a spokesperson for the company said the new unit will be a manufacturer of high quality gold jewelry, platinum jewelry and gemstone jewelry. The company's primary focus will be on establishing itself as a leading manufacturer and wholesaler of diamond jewelry and related fine jewelry. The diamond jewelry collection will contain high value solitaire designs and an assortment of varying quality diamonds for customers on a budget.
DiamondOcean has successfully integrated dropshipping into their system. Wherein, for only the shipping cost, dealers can have the product packaged with their name and credentials and shipped directly to the customer. Handling and packaging is done free of cost. All drop shipping items will feature tracking capabilities.
Diamond jewelry lovers rejoice. DiamondOcean is the new manufacturer that puts custom work in the hands of everyone.
For further information contact:
M. Banker
Marquise Gems Prvt Ltd,
DiamondOcean
Toll Free:
USA - 1800 5545808
UK - 2080 99 7768
INDIA - 18 0022 2232
Website: http://www.DiamondOcean.com
###