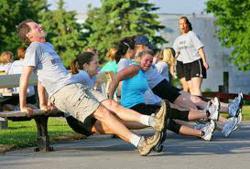 The trouble with not having a goal is that you can spend your life running up and down the field and never score. - Bill Copeland
Diamond Bar, CA (PRWEB) August 28, 2012
This Labor Day, 33 million Americans will travel for one last summer getaway, according to AAA research. Most people will be hitting the road to spend time with family and friends. This thought can be nerve-racking for those who may have indulged too much all summer long and packed on a few pounds. However, there are ways to whip the body into shape and look great for Labor Day in a week or less, says Diamond Bar personal trainer and business owner Sam Bakhtiar.
"It really takes a month of dedication with three hour-long workouts eachweek to see the kind of results you really want," Sam Bakhtiar explains. "But, that being said, a 3-in-1 fitness boot camp workout will have you feeling svelte after the very first workout! It's that intense!"
His brand of workout involves interval training, with moments of intensity followed by moments of recovery. "Since the hardest part of the workout is done in short bursts, it feels mentally easier. However, research shows it's more beneficial for the mind and body than a longer workout at an even pace."
Fitness boot camp participants typically drop 2-3 pounds during their first week of the program. "We give you a nutrition plan, so you're reducing foods that drain your energy or cause bloat, and you're eating more foods that leave you feeling full longer and improve your mood," Sam explains.In addition to the nutritional component, each new member will be scheduled for 3 one-hour workouts per week as well.
"As a Diamond Bar personal trainer, I do not generally recommend 'quick-fixes' or gimmicks," Sam says. "Yet, I do understand some people want to 'fake it before they make it' and look slimmer for an upcoming event. So I do have a few tricks up my sleeve to help my clients out, while they focus on their long-term goals by following the program."
Sam recommends switching to water and cutting out carbonated drinks for the week. Eating more foods with high water content – like watermelon and asparagus – are natural diuretics that help beat bloat. Applying self-tannercan make a person look slimmer too.Wardrobe choice is key to looking trim. For women, a long black tunic top with a belt and skinny jeans works wonders. Spanx is a great product for hiding lumps. For men, a solid-colored single-breasted suit jacket and jeans can mask a belly.
Individuals who want to lose weight this fall are invited to sign up for a free trial at http://www.FitConcepts.com.
Watch: http://www.youtube.com/watch?v=hXz9DchYegE
About: Fitness Concepts was founded on February 15, 1999. Since then, the group has helped 5835 and counting clients improve the quality of their lives. The personal trainers at The Camp Boot Camp help clients achieve maximum results through proper training, nutrition and supplementation. Programs are focused on long-term health and success, not unhealthy quick-fix fad diets or hazardous gimmicks.
Contact:
14682 Central Ave.
Chino, Ca. 91710
(909) 693-5303
Contact(at)FitnessConcepts(dot)com