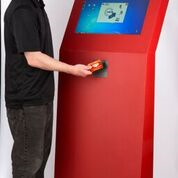 diamondBRIDGE eliminates a security concern that many wire & cable manufacturers face by providing them with the capability to double check ink jet messages.
Hanover, Massachusetts (PRWEB) August 02, 2016
Gem Gravure, a family owned business committed to serving its customers with superior solutions for their product identification needs, has just introduced diamondBRIDGE, a data interface system. The system is designed to improve security and quality on production lines that utilize ink jet printers for the purpose of marking and coding products.
BUILDING BRIDGES, ELIMINATING ERRORS
Initially developed for wire & cable manufacturing operations, diamondBRIDGE acts as a data bridge between the line operator, quality control personnel and the ink jet printer. It accomplishes this by allowing the front line operators to change the codes on ink jet printers at the point and time of production. This eliminates the coding errors that are often made when operators are forced to rely on paper orders when setting up ink jet printers. This "disconnect" of information occurs because paper orders are typically prepared hours before the actual job is run, and a lot can and often does change over time.
CUSTOMER PRAYERS ARE ANSWERED
Gem Gravure developed diamondBRIDGE because its customer base wanted a way to reduce common errors such as loading the wrong text or misspelling important information to be printed on to their products. Mistakes like these lose manufacturers time and money, not to mention product that has to be scrapped. With diamondBRIDGE, errors and waste are virtually eliminated because operators have access to the most up-to-date information related to printer messages and other equipment settings. This vital information is displayed clearly and prominently on the diamondBRIDGE screen, ensuring that what is supposed to be printed is printed.
NO MORE RUNNING AROUND
With diamondBRIDGE, plant supervisors do not have to run from line to line to make sure everyone has the correct information. Instead, they simply update files on a central computer. In addition to preventing operators from typing in wrong codes and misspelling information, diamondBRIDGE also prevents unauthorized operators from sending files or making unapproved changes. The system allows supervisors to take the employee ID numbers of authorized users, and create CSV files, which are compared against approved lists. Mark Kristoff, Director of Sales for Gem Gravure, made this comment on the important subject of security, "diamondBRIDGE eliminates a security concern that many wire & cable manufacturers face by providing them with the capability to double check ink jet messages. Having better security prevents product from being scrapped, and saves manufacturing operations time and money."
GAIN CONTROL OF THE SITUATION
diamondBRIDGE is designed to control up to four ink jet printers on a line, this number can be increased if necessary. Although this data interface system is not configured into other parts of the production line, it does display on its screen all of the production line specifications that are used to set up the line, which users can see and review. diamondBRIDGE is hard-wired, and can be connected to a WIFI network. Should the wireless network go down, operators are still able to hand type messages for the printer, ensuring that the production line remains operational.
ABOUT GEM GRAVURE
Since 1952, Gem Gravure has provided the best printing technology and fluids. Gem started by introducing continuous ink jet (CIJ) to wire manufacturers and engineering special inks for those tough applications. Gem creates product combinations that you can trust. Wire marking is a Gem strength.