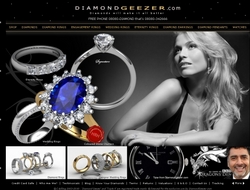 maybe it's now time for an ONLINE CROWN JEWELLER ?
(PRWEB) November 18, 2010
The U.K's leading online diamond jeweller DiamondGeezer.com is the first U.K jeweller to publically congratulate H.R.H Prince William and Kate Middleton on their engagement and the DiamondGeezer.com home page is this morning, dedicated to the celebration.
The diamond and sapphire cluster ring, a Royal heirloom of course, created a huge fashion and following on its first public airing nearly 30 years ago, at the engagement of Prince Charles to the then Lady Diana Spencer on February 24, 1981. Lady Diana Spencer chose her own engagement ring from a small selection presented to her at the palace after a dinner, delivered in person, by the man from the then Crown jewellers Garrard of Mayfair. The ring cost £28,500 at a time when the average price for a house in the U.K was £24,188. The choice of an 'off-the-shelf' classic sapphire and diamond cluster was hardly unique and any member of the public could buy the same ring from the Garrard catalogue. 15 years later the ring was valued at more than £250,000 because of its connection to the royals, and in particular Princess Diana. The average house price had risen to £76,103 by this time. Prince William who inherited the ring from his mother's £21 million estate, showed the family heirloom to be extremely precious to him by choosing it as his sign of commitment to his new fiancée.
DiamondGeezer.com may fantasize that in this modern world maybe it's now time for a ONLINE CROWN JEWELLER and given its unique design, skill-set and manufacturing facilities, it could indeed be best placed to take up the mantle and meet any Royal requirements. Maybe they should make the royal wedding rings?
###