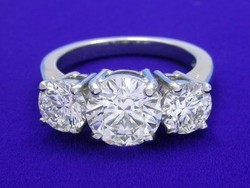 The Best Kept Secret in Richmond
Richmond, VA (PRWEB) July 24, 2007
Diamond Source of Virginia calls itself "The Best Kept Secret in Richmond" but NBC Channel 12's consumer investigative team discovered the local diamond retailer and set out to see if their prices were really rock bottom. They found a secret worth sharing and made it part of their consumer broadcast report.
Matt Boyce, the Special Projects producer for WWBT Channel 12, contacted Diamond Source of Virginia's president, Anne Reinke, and requested an appointment to learn more about the company. The appointment turned into an interview and guided tour with the video camera capturing insight into one of Richmond's Best Kept Secrets.
NBC12's "On Your Side" consumer investigative report entitled "More Bling for Your Buck" explained how Diamond Source of Virginia is able to offer low "Internet" prices but the added comfort of local diamond viewing-rooms where clients examine their diamond. The secret to low prices is low overhead costs. There are no fancy display cases or showroom lighting, just stone cold diamond deals. Since Diamond Source of Virginia does not own the diamonds, they are on the client's side for finding the best values in loose diamonds, designer diamond rings and fine jewelry.
The highlight of the TV broadcast was an interview with Michael Fust, a client of Diamond Source of Virginia, who recently purchased a diamond ring. He explained how he had searched many jewelry stores in Richmond but could not find the quality and value he desired. Michael was skeptical of online companies until he found an online diamond retailer located in Richmond. He was impressed that Diamond Source of Virginia had returned the first diamond they inspected for him because it did not meet their quality standards. When asked if the prices were better at Diamond Source of Virginia, Michael said, "The difference was amazing, 25% to 30% cheaper than jewelry stores."
When asked why clients like Diamond Source of Virginia, Denny Reinke, the company's co-founder, responded, "Girls like us because they get a bigger, prettier diamond and the guys like us because they have money in their wallet at the end of the day." Low prices, high quality diamonds, and the personal attention of diamond experts are the key reasons why the majority of Diamond Source clients are repeat buyers and referrals.
Diamond Source of Virginia has established itself as not only a primer source of loose diamonds and diamond rings in Richmond and Virginia, but a trusted source for diamond buyers across the country and internationally at http://www.DiamondSourceVA.com.
###