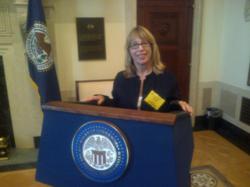 Santa Ana, CA (PRWEB) January 23, 2013
The National Financial Educators Council Personal Finance Speakers Association welcomes Diane Larson as a Featured Speaker. The Association brings those that represent the best practices in the field of financial education to conduct professional development courses, keynote presentations and training to organizations seeking to raise awareness and improve the financial abilities of those they serve.
Diane Larsen is recognized at the local, State, and National level as both an economics and financial educator. Her Mater Dei High School student teams finished 2012 with back-back State Wins, Spring and Fall semesters in the California State Stock Market Simulation. This is the 4th State 1st place win for Diane which no other teacher has been able to accomplish. In addition, she has trained on the New York Stock Exchange and The SEC in Washington, DC. For these accomplishments, Larsen was names the NFEC's Financial Educator of the Year in 2011.
Diane's international teaching experiences have allowed her to evaluate financial education programs worldwide. She exclaims, "I have yet to see a program which covers every aspect of financial education the way NFEC does. Whether it personal finance, investing, or international economic education, they do it all in a fun and entertaining way."
All featured financial literacy speakers graduate the NFEC's Certified Financial Education Instructor program. Larsen was one of the first graduates of this professional development coursework and she actively share personal finance lesson plans in her classroom in California and at events globally.
"The NFEC is proud to welcome Diane Larsen to the Personal Finance Speakers Association. She is an award winning and internationally trained teacher who is recognized at the State and Local level, states Vince Shorb of the National Financial Educators Council.
The National Financial Educators Council provides comprehensive financial literacy solutions for groups seeking turnkey solutions to their financial education needs. The NFEC teams up with leaders in the field of personal finance to provide the top financial literacy speakers in the industry and to promote the financial literacy movement. Whether [teaching financial literacy curriculum in high school, to kids or adults - the NFEC serves people of all ages and socioeconomic background.