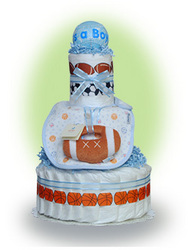 I wanted these diaper cake designs to build upon our reputation for offering customers the very best themed based diaper cakes available anywhere
Grand Blanc MI (PRWEB) September 20, 2010
Lil' Baby Cakes is please to announce their Limited Edition Diaper Cakes. These baby diaper cakes are aimed at value conscious customers looking to send a practical baby gift at attractive price points.
Candy Budyta, the owner of Lil' Baby Cakes, announced the addition of 7 brand new hand-made designs, each using quality ingredients new moms know and trust. These diaper cakes target popular baby themes and appeal to baby gift buyers looking for a memorable gift to send to the new mom.
"I wanted these diaper cake designs to build upon our reputation for offering customers the very best themed based diaper cakes available anywhere, stated Candy Budyta. I have worked with my vendors and found some great products to use for these designs. Even though quantities are limited, I still wanted to provide our customers with additional selections they can send as a baby gift to welcome the new baby home."
The Limited Edition initial release consists of the following 3 tier diaper cake designs:
1. Sports Theme
2. Blue Elephant Theme
3. Pink Elephant Theme
4. Lil' Treasure Theme
5. E-I-E-I-O Farm Animal Theme
6. Lil' Blue Bear Theme
7. Lil' Pink Bear Theme
Lil' Baby Cakes will introduce additional Limited Edition Diaper Cakes in the future.
For 11 years Lil' Baby Cakes has offered their unique style of themed based baby diaper cakes to companies and individual retail customers interested in sending a practical and memorable baby gift. The company uses brand name ingredients such as Pampers Swaddler 1 diapers, Johnson and Johnson baby products, Gund Plush toys (on some versions), and premium ribbons. Any of the company's designs make great baby gifts for families celebrating the birth of a new baby. Shipping is available worldwide.
# # #