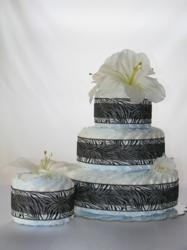 (PRWEB) May 02, 2011
Waterford, CT (PRWEB) May 2, 2011 -- Swaddle Me Diaper Cakes are an "elegant" ensemble of satin and organza ribbons accented with artificial flowers that dress "fanned" diapers. We chose the fanned touch because we believe it gives the cakes a more modern/ clean look. http://www.swaddlemediapercakes.com takes great care in making the back of every cake as beautiful as the front (shown in portfolio, side view pictures). Each cake is an entirely unique creation. Standard within each diaper cake is a travel size Johnsons: baby shampoo, baby lotion, baby wash, baby powder and Desitin, hidden within its' tiers. As mommy- to- be begins to unravel her gift, she will find these useful products inside.
Swaddle Me Diaper Cakes LLC is a business based in Preston, Connecticut. For those people who prefer to step away from the traditional binky, rubber ducky, receiving blanket decoration, take a peek at our portfolio page. We also specialize in designing matching centerpieces to go with their "parent" cakes. Useful and beautiful, they add a splash of color and pizaaz to your baby shower. "High quality products, coupled with superior customer service are the major ingredients in our diaper cakes". Enjoy perusing the web-site and allow us to create a masterpiece that will be the talk of the party.
# # #