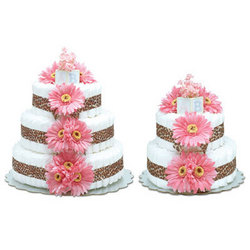 We are always looking for innovative and unique products to assist people hosting and planning showers and parties
Enumclaw, WA (PRWEB) May 27, 2008
PartyPail, Inc., a specialty provider of baby shower and bridal shower party supplies, today announced the launch its new Diaper Cakes product line. Seeking to offer customers a one-stop shop, superstore style source for shower decorations, PartyPail has increased the number of products it carries by over 500% this year, and the new Diaper Cake line is the latest in a string of new product line launches.
Diaper cakes are a unique, but increasingly popular gift for expecting parents. The "cake" isn't edible, but rather it's made from disposable diapers and fashioned to look like a multi-tier cake. Decorated to look similar to a cake, instead of frosting, the flowers are silk, and ribbon, raffia, or silk create the colorful accents in the design.
"We are always looking for innovative and unique products to assist people hosting and planning showers and parties" said PartyPail.com CEO Edward Hechter. "Adding a line of Diaper Cakes and Baby Shower Gifts simplifies the planning process for our clients, allowing them to color coordinate their unique theme with a truly luxurious diaper cake gift."
The new diaper cakes section features 14 different designs, ranging from tradition to modern. Many of these cakes coordinate with the 50+ baby shower decorating themes stocked at PartyPail. The cakes range in size from 40 diapers to over 100 diapers. Shipping is available to customers all 50 states, military serving overseas, and U.S. Territories, with free ground shipping on orders over $100 to customers in the continental US.
PartyPail also launched an expanded set of baby shower decorating themes adding a number of unique and humorous baby shower designs to its already industry leading product mix. The new themes feature a fresh set of designs appropriate for a co-ed or couples baby shower.
The expansion of PartyPail's product line was not limited to baby shower products. Shoppers will also find a greatly expanded bridal shower decorations section on the site. Many of the new themes are departures from the traditional floral and pink type designs, putting an emphasis on more unique and fun wedding shower events. The changing color palettes for today's weddings are prompting a desire from consumers for more innovative, and color designs. The expanded product line caters to both traditional and more unique clients.
About PartyPail Inc.:
PartyPail Inc operates PartyPail.com, a specialty online retailer of party supplies specializing in theme based decorating packages for baby showers, bridal showers, and children's birthdays. Located in Enumclaw, Washington, PartyPail is operated as a family friendly employer, creating job opportunities that allow staff to have the flexibility to devote time to their families, children's projects, and community service endeavors. PartyPail is a wholly owned subsidiary of Puakea Group, the investment holding company founded by Ex-Website Pros Inc., (nasdaq: WSPI) Executive Vice President Edward Hechter.
All trademarks used are properties of their respective owners.
# # #