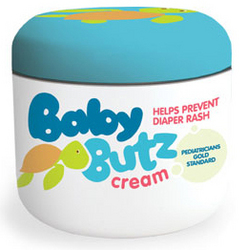 A local entrepreneur has earned Health Canada's first Natural Health Product License for her all-natural diaper rash cream.
Winnipeg, Manitoba (PRWEB) February 14, 2011
Majda Ficko of Olen Cosmetics, best-known as the owner of the Hair Do Zoo children's salons, developed Baby Butz Cream (http://www.babybutz.com) out of her own necessity – Ficko's son was born with a disability, keeping him in diapers 24 hours a day. As a result, he suffered painful diaper rashes relieved only by a hospital formulation. When that became unavailable, Ficko worked with a Research Chemist to create a cream that was natural, safe and effective.
Her son has never again suffered from diaper rash. Now Ficko is selling her cream to Winnipeg parents and beyond.
"I wanted to make sure the product was safe, effective and would meet Canadian Health standards," says Ficko. "So I submitted the formulation to Health Canada for their review and approval, and have subsequently been provided with a Natural Health Product Number." Baby Butz is the first diaper rash cream to receive this designation.
This innovative product meets the gold standard of Pediatricians, is recommended by doctors and moms and, most importantly, is guaranteed to prevent and heal diaper rash.
Majda Ficko is CEO of Olen Cosmetics Corporation. She is presently formulating all-natural hair and body care products for babies and children that will also be approved as Natural Health Products. Majda Ficko is dedicated to providing products that are "Safe for You, Safe for your Children"
# # #