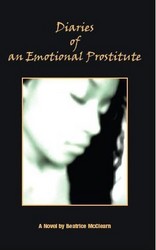 We all know an emotional prostitute. We just didn't know what to call her.
Riverdale, MD (PRWEB) October 6, 2010
Author and former middle school teacher, Beatrice McClearn releases her first novel entitled DIARIES OF AN EMOTIONAL PROSTITUTE.
First written as a form of cathartic memoir to enable her to deal with the strained relationship with her first love, it dawned on her that her emotional bond to this person was an unhealthy 15-year addiction. "I was a borderline stalker," McClearn admitted. Speaking at a women's group in 2006, she however realized that her addiction to love was not unusual. Indeed, hearing first-hand accounts from other women brought home the fact that she was not alone.
In early 2007, McClearn quickly withdrew the idea of making the novel a memoir and decided to add other women's stories of abuse and abandonment. She noticed the same behavior patterns in a number of her former students. "It was then, I decided to put a name to the addiction," McClearn admitted as she spoke on coining the term Emotional Prostitute.
Emotional Prostitutes seek fulfilment through love, affection, or recognition. "Emotional Prostitution is psychological slavery - particularly on young women," said Journei, a Washingtonian poet who also speaks on female empowerment issues. The 256 page confessional sheds light on how easy it is for young females to get caught in the fairytale destiny that society conditions them to desire.
McClearn will continue to speak at women's groups and mentor young women who are addicted to the idea of being in love. "It's a deadly burden to carry if not careful," Kwabena, McClearn's manager and president of Premier Social Management added.
The novel is available for pre-order via the Sixth Sense Publishing website until its publication date on November 12, 2010. Copies will be available through Barnes and Noble, Borders, and Amazon shortly thereafter.
###