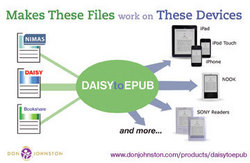 The DAISYtoEPUB conversion software can help students and individuals with disabilities read the latest digital content using popular portable devices and everyday technologies. Now they have more choices.
Round Lake, IL (PRWEB) November 2, 2010
Don Johnston Incorporated, a company that develops assistive technology for individuals with disabilities, just announced a new eBook conversion tool, DAISYtoEPUB, during the 2010 ATIA (Assistive Technology Industry Association) conference in Schaumburg, IL.
The DAISYtoEPUB software is the first and only tool that converts DAISY 3 (Digital Accessible Information System) electronic files into EPUB, the preferred standard format for mainstream eBook readers like the iPad, Nook, Sony Reader, Android devices, and computer-based programs.
The DAISYtoEPUB software will benefit students and individuals with reading disabilities, such as dyslexia, who want to read their accessible DAISY books on one of the new portable consumer devices that does not currently read DAISY formats, such as the iPad.
"Students who need accessible books typically want to use the same technology that their peers are using," said Ben Johnston, Director of Marketing for Don Johnston. "They don't want to stand out or look different. DAISYtoEPUB can help these students read the latest digital content using popular, everyday technologies. Now they have more choices."
Additional files based on the DAISY 3 standard include NIMAS (National Instruction Materials Accessibility Standard) and Bookshare files. The NIMAS format was established to guide the production of accessible K-12 textbooks and instructional materials. This standard was established in IDEA 2004 law, (Individuals with Disabilities Education Act).
With DAISYtoEPUB, it's easy to convert files in a three-step process:
1. Select the file and choose a location to save the converted file,
2. Click convert,
3. Transfer the EPUB file to the portable device or computer.
The DAISYtoEPUB software works on Mac 10.4+ and Windows XP, Vista, and 7. A license for a single hard drive installation is $99 with an additional range of Unlimited District Licenses.
Resource Links:
Learn more about DaisytoEPUB
http://www.donjohnston.com/products/daisytoepub/index.html
Visit http://www.donjohnston.com or call 1-800-999-4660 for a price quote.
About Don Johnston Incorporated
Don Johnston develops accessible and emerging reading and writing technologies to support K-12 and postsecondary students with cognitive, physical, and learning disabilities. Since 1980, the company has partnered with literacy experts, AT specialists, SLPs, OTs, special education teachers, university researchers and DSS coordinators to improve access to learning and to increase writing independence. Students and individuals with dyslexia, autism, dysgraphia, down-syndrome and diverse learning challenges will benefit from software and hardware devices to accommodate them in education and workforce programs.
# # #