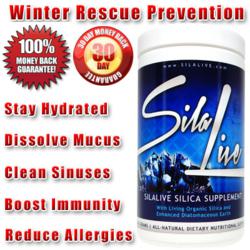 Food Grade Diatomaceous Earth is known for its superior systemic detoxification and internal cleansing properties to help fight winter colds and flu-related symptoms.
Boston, MA (PRWEB) December 04, 2012
As much of the world is preparing and bunkering down for winter and all that comes with it shivering cold, most are wondering what can provide an extra boost or vital support towards preventing cold and flu season side effects and difficulties.
December is when infections tend to become prevalent and the immune system weakens so ideally and actively preparing for such a yearly shift and change will help build up bodily health responses and ability to work despite challenging winter times.
Finding a natural winter rescue prescription can be hard to come by as most cough medicines and remedies provide a rather peculiar and bizarre mix of ingredients. Reviewing all-natural dietary supplements as a solution and alternative for cold prevention can be an equally daunting task without proper guidance and advice.
This is where the new SilaLive Silica Supplement with enhanced food-grade diatomaceous earth and living organic silica ingredients can aid in the role as a winter rescue kit towards common cold setbacks and flu symptoms.
In a world where "an ounce of prevention is worth a pound of cure", never could a statement hold more weight and significance than winter times where weather temperatures come plunging down and conditions become stagnate due to extreme weather and environments.
While nothing can ultimately replace warm puffy jackets and fireplaces with hot chocolate, depending upon natural health supplementation can play a big difference in energy and overall wellness during harsher weather conditions.
For most, to avoid annual winter prescriptions for cold medicines and the like should be a top priority as prevention can be worth its weight in gold if properly carried out, cared for, and looked after. Getting sick is never fun and often realize how good and sound it feels to be fully healthy and functional.
While SilaLive's food grade diatomaceous earth isn't touted as the best cold remedy available, it can be looked at for its superior ability in whole-body detoxification and systemic cleansing.
These benefits can play a great role in the cleaning up and clearing out of excess mucus and snot which helps fight off winter-related illnesses.
When temperatures take a dive and chilling winds pick up, preparing a winter rescue prescription kit might be the best interests to those living in colder regions.
Let's cover some of the detoxification and cleansing health properties Silica carries, in specific food-grade diatomaceous earth.
Diatomaceous earth is one of the most sought after products, mostly due to its' many benefits. However, up until now, there have been no pure diatomaceous earth supplements that combine organic silica (orthosilicic acid).
SilaLive is a brand new diatomaceous earth supplement that utilizes the raw power of diatomaceous earth in an affordable way so that all consumers can afford it.
A 1lb. tub of SilaLive is $35, a 2lb. tub is only $60, a 3lb. tub is $80, and a 5lb. tub is priced at $120. However, with a 5lb. tub you can get an additional 1lb. absolutely free. A 5lb. tub can last up to 6 months, so Silalive costs less than $1 per day to use.
Plus, SilaLive offers free bonuses on every order and provides same day shipping, so consumers can obtain the highest quality food grade diatomaceous earth faster.
Many credible and reliable trustworthy internet websites about diatomaceous earth have not only a wide variety of uses and applications, but impressive health enhancing benefits that need more recognition and acknowledgement of this ancient treasure for modern health.
According to the SilaLive website, humans can take diatomaceous earth for many reasons.
The most common use of SilaLive Silica is for a diatomaceous earth detox. A diatomaceous earth detox "cleanses the various toxins, parasites, and other waste material that is clogging the digestive tract." Some of the harmful toxins include bacteria, viruses, parasites, waste material, and stagnated blood debris.
Actively cleansing and clearing detoxification pathways throughout the body help boost immune system resiliency and function which allow for better protection against common cold outbreaks and flu-like symptoms.
Because food grade diatomaceous earth is known for its uncanny ability to detoxify and soak up excess mucus – it makes for an excellent addition to any winter rescue preparation.
Utilizing the premium-grade super-charged silica ingredients found in SilaLive, users can begin experiencing fast-acting results within as little as 3-5 days.
Obviously continued usage will allow the body to fully assimilate and express its innate, inherent self-regulating detoxification mechanisms for the ultimate winter cold and flu rescue natural prescription preparation.
In addition to cleansing the digestive tract, SilaLive also has a high affinity to attract, bind, and remove heavy metals from the digestive tract, which the stomach cannot remove itself. Safely removing and eliminating toxic heavy metals and pollutants from the nervous and endocrine systems will allow a more optimal immune system to go to work to fight off dangerous invaders and intruders.
SilaLive Silica's enhanced diatomaceous earth is starting to mount an extensive list of benefits on the body including; improved digestion, normal bowel movements, improved colon health, improved kidney function, improved liver function, faster activation of nutrients, improved circulation, higher percentage of nutrients absorbed, improved energy, and an overall healthy feeling.
These effects are often a natural result of regular systemic detoxification which puts the body into an optimal internal environment best suited to fight off illness.
This is why one of the biggest and most critical aspects to staying cold-free and winter prescription-less is to properly build up and support a strong immune system equip to deal with dramatic weather patterns and changes.
Besides following a diatomaceous earth detox diet cleanse, food grade D.E. is also shown to play a role in lowering blood pressure, promoting healthy weight loss, improving bone strength, hair health, and collagen production, reduce wrinkles and fines lines, and can be used as a source of beneficial tissue regenerative nutrients.
Although SilaLive is meant for human consumption, it can also be used for house pets as well.
SilaLive can be used as a de-wormer and to detoxify a house pet's digestive tract, just like it can be done for humans. The dose is just much lower than humans and the makers of SilaLive recommend consumers follow the strict protocol before giving a pet diatomaceous earth.
The makers of Silalive want consumers to know that their intention is to make diatomaceous earth and silica available to all consumers. The makers realize how important silica is to the human body and want to ensure that all adults can reap the benefits of silica, which is why their product is affordable, yet still of a very high quality.
About Higher Health's SilaLive Silica
SilaLive's sole intention and higher purpose is to provide a high-quality, safe, and effective premium grade health supplement meant for whole body health and energy. Realizing the body is a system of systems, learning crucial systemic detoxification principles and cellular rejuvenation became of the utmost importance when attempting to help restore, renew, and replenish total body wellness.
SilaLive Silica supplement was created and designed with that ultimate goal in mind and the vision of bringing the highest-quality materials and ingredients found directly in Mother Nature to a practical and respectable way to detoxify and cleanse the body from the inside out is what our mission is set out to accomplish.
While nothing is for certain, having a winter rescue prescription philosophy in place is great, but taking winter-weather preventative measures and actions to avoid putting the odds in favor of getting a cold is likely the best way to start healthy through the upcoming winter months.
Visit SilaLive Silica's official website to read about the brand new proprietary blend of enhanced food grade diatomaceous earth and living organic silica. Also stay tuned for an amazing 7 Day Diatomaceous Earth Silica Detox Diet Cleanse transformation program.
*These statements have not been evaluated by the FDA. These supplements are not intended to diagnose, treat, cure, or prevent any disease.