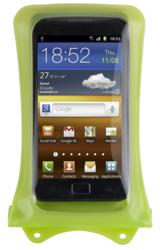 "This line is a great match for Canada's out-doorsy market," says Maryam Lahiji, Global Marketing Partners' Marketing Manager.
Agoura Hills, CA. (PRWEB) November 26, 2012
Global Marketing Partners, Inc. today announced a partnership with DiCApac to launch their new waterproof cases for iPhone, iPad and digital cameras through a distribution agreement with Ingram Micro Canada. The Global/DiCApac agreement gives Canadian resellers the flexibility to buy the entire portfolio of DiCApac waterproof cases from Ingram Micro Canada rather than waiting for shipments to come in from across the border or overseas.
The DiCaPac digital camera cases are compatible with most brands of cameras. They are transparent and equipped with a built-in optical lens that allows full functionality while the camera is safely encased in the protective waterproof cover. This allows SLR and DSLR users to shoot high-quality pictures while in harsh environments such as snow, water, or sand. iPhones, iPods and iPads are also covered by the line. Users can keep their gear 100% safe from the elements while snorkeling, skiing or shooting the rapids in a kayak.We believe Canadian resellers especially will find these popular holiday and post-holiday items," says Maryam Lahiji, Global Marketing Partners' Marketing Manager.
The DiCApac line can be viewed at Global's Catalog, http://dicapac.globalwrx.com Stock is available now from Ingram Micro Canada.
About DiCApac
Based in South Korea, DiCAPac is dedicated to providing the highest quality waterproof cases for digital cameras, cell phones and other consumer electronics. The company supplies product to more than 50 markets world-wide and has won product and corporate awards in its native country. For more information on the DiCaPac line, visit: http://dicapac.globalwrx.com
About Global Marketing Partners
Global Marketing Partners, Inc. headquartered in Agoura Hills, CA, is a promoter and distributor of emerging technology companies in the IT supply chain. In partnership with the largest technology distributors, Global provides companies with fast, affordable and flexible access to over 180,000+ Channel Resellers, including Amazon.com, Walmart.com, CDW, Dell and Newegg. For more information, visit http://www.globalwrx.com.