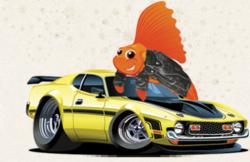 This is not the last of Dick Clark.
Los Angeles, CA (PRWEB) April 19, 2012
RoadFish.com men's lifestyle and finance magazine today remembers and honors the life of radio and game-show personality, and "American Bandstand" host Dick Clark after he passed away of a heart attack at age 82 on Wednesday. Clark was well-known for his energetic on-air persona, and built a wealthy broadcasting career for himself over the span of a half a century in show biz.
Geoff Boucher of the LA Times reported that according to Clark's publicist Paul Shefrin, Clark suffered a heart attack after undergoing an outpatient procedure at St. John's Health Center in Santa Monica, California on Wednesday. He had suffered a stroke in 2004 that had taken a toll on his mobility and speech, and reportedly his health has been questionable ever since. The 2004/2005 New Year was the only one since he began hosting his "New Year's Rockin' Eve" show in 1972 that Clark missed. The article reports what most of us already know, that Clark is widely considered to have transformed rock 'n roll into a household trend in the 1950's with the hosting of the popular show "American Bandstand." Clark was nicknamed "America's oldest teenager" for his ever-youthful appearance.
Ann Oldenburg and Gary Levin of USA Today wrote today that Dick Clark's days are over but his legacy will forever live on. In the article, Marie Osmand is quoted as posting on Facebook, "In 1974, my first time on "Bandstand," I thought Dick Clark was the most handsome man in show business. In 1998, when he created and produced the Donny & Marie talk show, I realized that he was truly the hardest-working man in showbiz. And now, in 2012, I will always remember him as one of the most honorable men in show business."
RoadFish.com's Senior staff writer is quoted as saying, "Dick Clark is one of those iconic figures who you just never ever forget. He had so many faces, from "American Bandstand" to the "New Year's Rockin' Eve" show, to "Pyramid." But it wasn't just these shows that I associated him with, it was good music, dancing, energy, appreciation for new genres [of music.] He will be greatly missed."
As a testament to Clark's building an era of rock 'n roll, musicians came out of the woodwork in the wake of his death to commend him for introducing the country to new music. According to the above-mentioned USA Today article, Tony Bennett tweeted that Clark was "a great guy and one of the first people to play my records." Likewise, Paul Stanley stated that he "was the face of rock and roll and its best ambassador. He championed Kiss when others turned away, and was instrumental in breaking us."
RoadFish.com applauds the life of "America's oldest teenager" and agrees that Clark's legend will never be forgotten. Stated RoadFish.com's Senior staff writer, "This is not the last of Dick Clark. Personalities like that live on, they become immortalized. He is someone who spanned generations. Even if you didn't grow up with "American Bandstand," you knew and loved Dick Clark."
Bronxville, NY native Clark got his start in show biz in 1945, when he took a job in the mailroom of WRUN radio station in Utica, NY. He was quickly promoted to the station's weatherman and news announcer, and you could say the rest is history. Clark began hosting "American Bandstand" in 1957, shortly after it was picked up by ABC and renamed from its original name ("Bob Horn's Bandstand.") Clark interviewed Elvis Presley on August 5, 1957 when the show made its national debut. Clark went on to host "The Dick Clark Show," "Pyramid," and "Dick Clark's New Year's Rockin' Eve" show. Clark has been honored with many awards, including four Emmy Awards. He was inducted into the Hollywood Walk of Fame, National Radio Hall of Fame, and Rock and Roll Hall of Fame.
About RoadFish
RoadFish.com is an online men's lifestyle and finance magazine targeted toward men in their 30's and 40's that have already attained a moderate level of success in life, and are striving toward more. It goes over current events of interest to this group, such things as exciting adventures, making money, consumer interests, hot chicks, and current tax-related news as well as ways to make more and save more money. It is a publication owned by Purpose Inc.
###