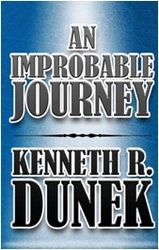 When I've told friends about the interesting characters I've met during my life, they've said I should write a book. So I did.
Mt. Laurel, NJ (Vocus) April 23, 2010
Ken Dunek, a hulking farm boy who made the roster of a Super Bowl team with no credentials and scant experience, captures the work and play of celebrity athletes in a first-person book crammed with one-of-a-kind sports memories and moments.
"When I've told friends about the interesting characters I've met during my life, they've said I should write a book,'' said Dunek. ''So I did." (A surprisingly good one, says his former coach, Dick Vermeil)
''An Improbable Journey'' details Dunek's odyssey through life as an NFL and USFL champion and as a Forrest Gump-like magnet for the jocks and entertainers he has encountered, chummed with and observed in his post-pro travels.
Dunek recalls being the cash-low fourth in a round of golf with millionaires, including NBA legend Julius Erving. Ken's playing partner neglected to tell him how much they were playing for. So, at the end of the match when Erving forked over several large, crisp bills, he just stood there in shock and reluctantly accepted the winnings.
Dunek describes his role as a blocking dummy during a one-on-one practice session with Hall of Fame member Lawrence Taylor. And he recalls being publicly put down by insult comic Don Rickles, kicking back with Hall and Oates, and picking a fight (by proxy) with Michael Jordan.
Page after page, in dozens of up-close celebrity vignettes, the author reveals the kindness and quirks of household names. Plus, there are touching moments like the childhood memory of helping NFL icon Vince Lombardi find the locker room at Wrigley Field.
And dramatic moments: Ken explains the bedrock support his network of family and friends provided after Alexandra, one of his triplets, was diagnosed with life-threatening cancer at one year old. And how that same network sprung into action years later when his wife, Terri, sustained life-threatening head injuries from a car accident.
Super Bowl Champion Coach Dick Vermeil wrote the foreword to ''An Improbable Journey,'' praising the ''raw talent, backed by passion and intelligence'' he saw in Dunek. The Vermeil/Dunek friendship is something the former player discusses during his motivational speaking engagements.
From the rostrum, Dunek describes being a free agent at the 1980 Philadelphia Eagles training camp field. Extremely ill with the flu, he bumped into Vermeil as they were both heading to the practice field. ''You're sick; back in the trainer's room,'' barked Vermeil. Dunek continued to the field and croaked, ''Everybody's gotta die someplace, Coach. This is as good as any.'' From the respect in Vermeil's eyes, Dunek knew he had made the team as backup tight end.
Vermeil says he knew Dunek was talented athlete, but, ''What I didn't realize was that he had this great ability to write.''
For his part, the former player writes glowingly about Vermeil, not as a football coach, but as a friend who was in constant contact with Dunek while Terri battled for her life after the car accident.
Dunek attended Memphis State University on a basketball scholarship. He never played organized football until his third year in college when a football coach spotted him playing pigskin catch. He signed as a free agent with the Eagles in 1980 and was a team member (injured) for the 1980 Super Bowl. He then played the 1983-85 championship seasons with the Philadelphia/Baltimore Stars of the now-defunct United States Football League.
''An Improbable Journey'' can be purchased at kendunekbook.com.
###