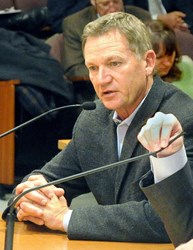 Miramar, Florida (PRWEB) June 08, 2013
World Series champion and former major-league pitcher Dickie Noles will be the featured speaker at a "Town Hall Conference on Drugs & Alcohol," hosted by Recovery Associates and The Florida House Experience, from 7:30-9:30 p.m. on Sunday, June 9, at Blessed John XXIII Catholic Church, 16800 Miramar Parkway.
Noles was part of the 1980 World Series-winning Philadelphia Phillies team that defeated the Kansas City Royals. Noles pitched for six different Major League Baseball teams (including twice with the Phillies) from 1979-90.
Noles said in 2012 that since successfully kicking his alcohol addiction problems in 1983, he has dedicated his life toward drug rehabilitation issues. Noles currently works as the Phillies' employee assistance professional, routinely helping the team's players and staff members enter drug rehabilitation.
In that light, Noles will share his own personal experience, strength and hope in dealing with alcoholism and how his life has improved through sobriety.
This conference is open to the public and admission is free. For more information on this conference, contact Elizabeth Rodriguez or Maria Garrido at (954) 392-5062.
Recovery Associates is a drug and alcohol treatment center that provides a variety of programs and services for men, women and teens struggling with chemical dependency issues. At the core of their philosophy is the belief that addiction is a treatable illness. Their addiction treatment experience has shown that anyone is capable of achieving lasting recovery and physical, mental and spiritual freedom from the disease of addiction. For more information on Recovery Associates, visit its website at http://www.recoveryassociatespalmbeach.com or call 888-410-4330.