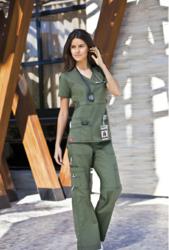 You might just call it perfect
Boston, MA (PRWEB) September 01, 2011
Think about the perfect scrubs. They would be super comfortable, have all the pockets and function a nurse need and would look as cool as any favorite active wear. The functionality to work the best and the style to look the best. Dickies Medical calls it "Youtility". Some just might call it "Perfect".
Dickies Medical Gen Flex Youtility Scrubs are made with an advanced micro-sanded stretch fabric and designed with ergonomic seaming, the Gen flex Scrubs material is unique in that it delivers super soft comfort and extreme freedom of movement while maintaining a trim and flattering active fit.
In addition to having pockets everywhere one would expect, Dickies Medical has built in every pocket and functional feature a nurse may ever need! Cargo pockets, sectional pockets, cell phone pockets, pen slots, utility loops and ID bungee loops.
While the function is pure "work", the style is edgy and contemporary. Contrast mutli-needle stitching, snap details and the trim Dickies junior fit creates a cute active wear look.
The Dickies Medical Youtility Gen Flex line offers three solid scrub tops, and three solid scrub pants for women, a Youtility Lab Coat available in Black or White, 20 print scrub tops as well as a men's scrub top and bottom.
Visit Scrub Couture or The Medical Outlet today for the fantastic Gen flex Youtility scrub line from Dickies Medical.
###