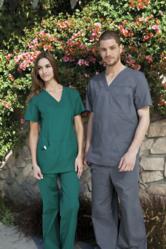 Earth Friendly Beauty
Boston, MA (PRWEB) September 02, 2011
Dickies Medical continues to be a top selling Scrub and Footwear company for nurses and healthcare professionals. The earth friendly "Enzyme Washed" collection of Dickies Scrubs is enzyme washed for comfort and a soft organic look.
The Dickies Medical "Enzyme Washed" scrub line has two new additions for fall. Two Junior styles have been added to this earth friendly, soft organic group. The first scrub addition is a round neck top (82777) with dyed to match flower buttons, and a fit and flare drawstring pant (82007).
The Dickies Medical Enzyme Washed Round Neck Scrub Top is a junior fit featuring decorative dyed to match buttons and pleats at the neck. Slight shirring at center sleeve hem, rounded patch pockets, side vents, back elastic and tonal bartacks complete this whimsical and yet professional top.
The Dickies Medical Enzyme Washed Round Neck Scrub Pant is also a junior fit. It's a drawstring pant featuring the Dickies logo elastic inside of the back waist, belt tabs on the front of the waistband, and tonal bartacks details. Front pockets, a roomy cargo patch pocket, and side vents complete this pant.
Visit Scrub Couture or The Medical Outlet today to shop for these newest additions to the Dickies Medical Enzyme Washed Scrub Line.