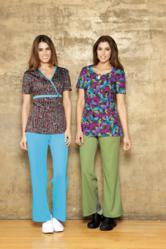 Naturally Soft and Fresh
Boston, MA (PRWEB) September 10, 2011
Familiar with the Dickies Medical "Natural Elements" Scrub line? This Dickies Scrub line is naturally soft and fresh, the softness can be felt with one touch. It drapes like silk and the Tencel fabric is actually good for the skin. This fabric not only naturally inhibits the growth of odor causing bacteria, it wicks moisture away from sensitive skin, so skin will feel fresh all day.
The Dickies "Natural Elements" scrub line comes in 8 fantastic solid colors, and 28 prints across 5 styles. Their is the Dickies V-Neck Scrub Top (84736), Dickies Keyhole Scrub Top (84734), Dickies Mock Wrap Scrub Top (84733), Dickies Flare Drawstring Scrub Pant (84008) and the Dickies Elastic Waist Scrub Pant (84009).
This great Dickies "Natural Elements" scrub line is amazingly soft to the touch, not restrictive in the slightest and with the unique properties of the Tencel fabric sure to keep anyone cool and comfortable all day.
Visit Scrub Couture today to shop the latest styles from this great Dickies Scrub line!
###