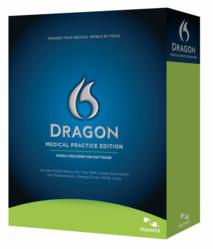 This software offers value and increased productivity, which many medical practices can benefit from...
Castle Rock, CO (PRWEB) May 22, 2012
With a solutions-centric approach to effective integration of dictation and transcription programs, DictateHQ has announced that they now offer Dragon Medical Practice Edition. A powerful and configurable voice recognition software by Nuance, Dragon Medical Practice Edition is designed for medical practices with 24 physicians or less. With a variety of quality products that include handheld recorders, dictation controllers, and dictation software, DictateHQ also offers experienced, full service consultation, integration and technical support.
"We are proud that we can offer physicians and other healthcare professionals in Colorado the opportunity to integrate Dragon Medical Practice Edition into their office settings," says Michelle Weyend, President of DictateHQ. "This software offers value and increased productivity, which many medical practices can benefit from," adds Weyend.
Dragon Medical Practice Edition is a state-of-the-art speech recognition technology, which allows the user to get large amounts of spoken text into the computer quickly and with 99% accuracy. The software can signficantly streamline the entry of patient notes, coding or prescription information into a practice's Electronic Health Record (EHR). Healthcare professionals can be assured that Dragon Medical Practice Edition will recognize practically any clinical term or reference; its expanded vocabulary now covers nearly 60 medical specialties and subspecialties. A typical medical practice that integrates a speech recognition technology (such as Dragon Medical Practice Edition) into their daily operations can increase their productivity by 50 percent and realize cost savings by lowering their administrative and transcription expenses. More information about Dragon Medical Practice Edition can be found by visiting http://shop.dictatehq.com/ProductDetails.asp?ProductCode=10.
DictateHQ's service model is nimble, flexible and well-positioned to support clients in a variety of industies and geographic regions. Their clients represent the legal, insurance, education, publishing, automotive industries, and Colorado medical practices. A recent project with their largest client, the Alberta Health Services illustrates their ability to effectively deliver top digital dictation technology, software, and support to high profile organizations with thousands of personnel.
Alberta Health Services (AHS), which has over 100,000 employees, is the primary healthcare provider for the province of Alberta, Canada. Recently, the organization brought in DictateHQ to identify an appropriate digital backup solution for their clinical trial dictation and transcription needs. The software they were using went down and they did not have a backup. DictateHQ, in collaboration with the AHS staff, devoted months of technical research to find and implement the solution. As a result, AHS now has a digital backup solution to assist their employees with dictation and transcription in critical downtime.
For another client, a newspaper business based in Florida that needed a reliable solution for their journalists to efficiently record and transcribe interviews, DictateHQ identified and installed a recording system best suited for their needs and size.
DictateHQ's process for getting clients fitted with the most appropriate dictation and transcription technologies begins by learning everything about the clients' business, including what systems they are currently using. Then, they assess what the organization will need for the future. After evaluating solutions within the clients' budget, they integrate the selected system and provide immediate and ongoing technical support.
After several years of successfully identifying what works best for particular clients, and recognizing that software "emergencies" often arise, DictateHQ is currently developing their own dictation software product. The product is intended to provide a backup solution that is more affordable and will have no restriction within any network environment.
About DictateHQ:
DictateHQ started their business with a simple goal.. to provide their customers with the right answers and tools to help with their dictation and transcription needs. They pride themselves with offering superior customer service. DictateHQ provides their customers with dictation and transcription hardware and software. They carry the most reliable products on the market. Typically it is hard to find a company that knows what they are talking about. That's where DictateHQ steps in. With a proven history of finding the right solutions for their clients, they can help! For further information on the solutions they provide, visit http://DictateHQ.com/index.html.
DictateHQ offers both technical and workflow consulting, and can assist with procurement, installation, maintenance and continued support for the life of the products they offer. They are a reseller of all the products they offer. They can find the right product for a company's needs, usually at a better price than most other companies. For more information about DictateHQ's portfolio of products and services, visit http://shop.DictateHQ.com/.