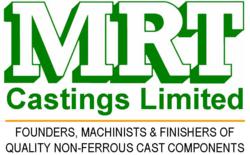 Andover, Hampshire (PRWEB) September 30, 2011
Without expert advice designers can come up against unexpected problems when die casting that can prove costly and untimely warn MRT.
Designers are all too often finding out at too late a stage during the manufacturing process that components are too expensive or even impossible to cast.
Specialist die casting foundry MRT are working with designers early on in the product development stages - optimising components for successful die casting.
Getting an expert on board to provide design tips for successful die casting early on can help avoid those potential pitfalls.
With projects often time critical, working with full service zinc and aluminium casting experts can help avoid production delays and missed deadlines – reducing time to market.
Component design is a careful process - designers have to make sure their component will work in a variety of contexts and be fit for the manufacturing process.
The die casting process is extremely versatile, producing complex shapes with a high degree of accuracy and repeatability and is used in a variety of applications from medical equipment to light fittings.
There a number of factors for designers to consider when optimising component design for successful die casting - that can both cut costs and time:

The volume of material used – reducing the volume of material saves cost and weight, and reduces the time taken to fill the die cavity and cool the casting.
Component strength – ribs, radii and fillets can be used to strengthen the die casting and reduce sharp corners and rapid changes in cross sections.
Shrinkage – components will shrink from die casting temperature to room temperature. Applying an allowance for this into the design process will help prevent shrinkage affecting the components accuracy.
Porosity – component design including shape, rapid change in cross sections and wall thickness can result in die casting porosity.
Parting Line - construction of parting surfaces will have a huge impact on die casting success and should be carefully considered during the design stages.
Surface finish – identify areas of high material quality and cosmetic finish to ensure enhanced aesthetic quality of die castings.
Specialists in zinc and aluminium gravity die casting and pressure die casting processes, MRT Castings has more than 60 years of foundry experience, supplying non-ferrous cast products within the shortest possible lead times.
MRT can help at every stage of the casting process, providing specialist design advice on the choice of casting method, choice of alloy, choice of finish and casting tolerances, section thickness and machining considerations.
MRT offer a one stop die casting solution helping designers to develop products to a high standard through designing, machining, assembling and delivering finished end products.
MRT have invested heavily in state of the art machinery and are an ISO-accredited gravity and high pressure die casting company to ISO9001:2008.
For more information about die casting solutions from MRT Castings Ltd, please contact Chris Rawnson, +44 (0)1264 324021.
Information for Editors:
http://www.mrt-castings.co.uk
MRT Castings Limited
South Way
Walworth Estate
Andover
Hampshire
UK
SP10 5JT
Tel +44 (0)1264 324021
Fax +44 (0)1264 333773
Email: general(at)mrt-castings(dot)co.uk
Since its inception, MRT Castings has traded as a foundry in the UK, principally engaged in aluminium and zinc manufacture and gravity and high pressure die casting.
MRT is a privately owned family business and has continually invested in the latest technology and training to ensure it has one of the most highly skilled teams and the most advanced manufacturing facilities in the UK foundry industry.
MRT is an ISO-accredited gravity and high pressure die casting company to ISO9001:2008. This followed registration to BS 5750 Part 2 in December 1990 and ISO 9002 in January 1995.
In 2004 MRT was awarded the Cast Metals Federation Company Achievement Award in recognition of its outstanding growth, innovation and investment within the UK casting industry.
###