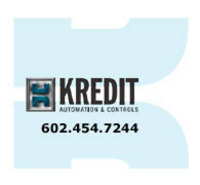 Phoenix, AZ (PRWEB) October 2, 2007
Kredit Automation & Controls, Inc. announced today that it has been awarded a contract for their unique post extrusion die cleaning equipment from Indalex Inc. The die cleaning equipment, to be installed as part of the Indalex Aluminum Solutions Connersville IN. expansion, is designed to provide additional capacity needed for their new 6000 ton extrusion press. The equipment will remove aluminum from extrusion dies that are up to 30 inches in diameter at a rate of 45 dies per day. The efficient removal of aluminum from dies is critical to the reprocessing for the extrusion dies for re-use. Unlike the process used throughout most of the industry where dies are placed in open tanks of a hot caustic solution, the aluminum is removed in such a way as to ensure that employees are not exposed to caustic fumes.
Kredit Automation & Controls installed a similar system at Hydro Aluminum of North America where they experienced significant improvements in operator safety, productivity, and a reduction in chemical usage because of efficiency improvements. Hydro Aluminum of N.A. Phoenix facility reports an annual savings of $60,000 per year with the Kredit Automation die cleaning system and die cleaning time reduced by as much as 50%.
Indalex Aluminum Solutions is one of the world's largest aluminum extrusion companies with dozens of extrusion presses throughout the world.
About Kredit Automation & Controls, Inc.
Kredit Automation is a manufacturing systems integrator located in Phoenix, Arizona. Their products and services include the design and fabrication of new machinery and material handling equipment, retrofit of older machinery with new control systems, and 24/7 service and repair. Kredit Automation & Controls is a Rockwell Automation Integrator Partner, and provides integration, upgrades, and repairs for many Fortune 500 manufacturers.
Contact information: Steven Smith, Vice President. 4038 E. Superior Ave. Building 2, Suite 102, Phoenix, AZ 85040. Phone number: 602.454.7244. Email: steve.smith(at)kreditautomation.com. Web page URL: http://www.kreditautomation.com
###