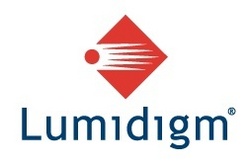 The Lumidigm sensor brings an entirely new level of performance. It allows us the ability to enroll customers that have very fine fingerprints that typically cannot be captured on conventional optical sensors
ALBUQUERQUE, N.M. (PRWEB) May 14, 2008
Diebold's identiCenter, powered by US Biometrics, is a biometric security solution for financial institutions that uses an individual's fingerprint to quickly, securely and accurately identify account holders within a financial institution. It uses proven Lumidigm multispectral fingerprint technology to address the threat of identity theft among consumers and financial institutions, a concern that affects 10 million Americans at a total cost impact of $50 billion annually.
Tim O'Neill, Diebold identiCenter product manager, is pleased with the upgrade. "The Lumidigm sensor brings an entirely new level of performance. It allows us the ability to enroll customers that have very fine fingerprints that typically cannot be captured on conventional optical sensors," said O'Neill. "Customer satisfaction is paramount, and the Lumidigm sensor helps Diebold achieve that."
Lumidigm's fingerprint sensors capture accurate and high-quality fingerprint images by exposing the fingerprint surface and subsurface at the same time. This capability permits Lumidigm to achieve high biometric performance in security applications without compromising convenience for the end user. It also allows use in environments where other sensors fail.
"US Biometrics selected Lumidigm for identiCenter because no other fingerprint solution provides the performance in challenging conditions that we have seen demonstrated by Lumidigm sensors," said David Delgrosso, President of US Biometrics. "This technology enables the use of biometrics just about anywhere."
About Diebold
Diebold, Incorporated is a global leader in providing integrated self-service delivery and security systems and services. Diebold employs more than 17,000 associates with representation in nearly 90 countries worldwide and is headquartered in North Canton, Ohio, USA. Diebold is publicly traded on the New York Stock Exchange under the symbol "DBD." For more information, visit the company's Web site at http://www.diebold.com.
About Diebold Security
Diebold Security is a leading security integrator with representation in every region of the world. Focusing on the sale, installation and service of security components, Diebold Security provides comprehensive protection and detection solutions to the commercial, financial, government and retail markets. For more information, visit http://www.dieboldsecurity.com.
About US Biometrics
US Biometrics Corporation designs and deploys a range of biometric technologies for financial, corporate, governmental, healthcare, manufacturing, and educational clients who require absolute authentication of customers and employees. The company is headquartered in Naperville, IL, US.
About Lumidigm
Lumidigm, Inc. deploys biometric systems that work quickly and effectively on all people in all environmental conditions using multispectral imaging. Lumidigm provides liveness-protected identity management for civil identification, point-of-sale, physical and logical access, time and attendance, and portable electronic device applications. Headquartered in Albuquerque, New Mexico, Lumidigm technology is distributed worldwide.