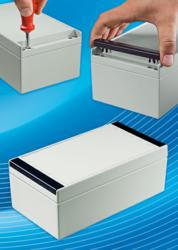 ROLEC aluPLUS is now available in eight standard sizes with widths ranging from 84 mm to 160 mm.
Fareham, Hampshire (PRWEB UK) 14 November 2012
ROLEC has launched four new sizes of its sophisticated and user-friendly aluPLUS diecast electronic enclosures.
These aluminium housings are now available in four more industry standard sizes:

125 mm x 84 mm x 59 mm
175 mm x 84 mm x 59 mm
100 mm x 100 mm x 82 mm
160 mm x 100 mm x 82 mm
It means that aluPLUS enclosures are now available in eight sizes from 125 mm x 84 mm x 59 mm to 260 mm x 160 mm x 90 mm.
ROLEC aluPLUS IP66 housings have been designed to make installing electronics and electrical components much faster and easier.
ROLEC's aluPLUS range is specifically designed for modern industrial applications such as process control, monitoring and detection, industrial measuring, flow metering and machine controllers.
Unlike generic diecast electronic enclosures, aluPLUS has a very modern external design which includes unique clip-on lid trims. These fit into the lid section – concealing both the assembly and wall/panel mounting screws.
No fixing screws are visible once the lid trims have been clipped into place, giving the enclosures a clean and modern appearance. This also helps to deter tampering.
No external mounting brackets are needed because the enclosures can be mounted to a panel, wall or a machine housing while still assembled.
This 'lids closed' installation method avoids any possible damage to the components or sealing gasket. The clip-on lid trims are simply snapped into place once the unit is mounted.
Every aluPLUS enclosure also features a 1.7 mm lid recess as standard, making it easy to fit a membrane keypad or polycarbonate label.
ROLEC aluPLUS enclosures are rated to IP66 as standard but can also be specified to IP67 with special factory fitted gaskets.
The enclosures are manufactured in diecast aluminium material GD AL Si 12/DIN 1725 and powder painted in a fine textured light grey, RAL 7035.
Screw bosses are provided in the base and lid sections for PCBs, mounting plates, earth connections and other components (screws included).
Accessories include special lid fixing screws with integrated retaining straps. These hold the lid in place during installation and servicing.
ROLEC also offers a full customising service on these enclosures with CNC milling, drilling, silk-screen printing, assembly of cable glands and terminals and much more – providing a fully finished housing ready for fitting the equipment.
ROLEC industrial enclosures are marketed in the UK by OKW Enclosures Ltd of Fareham, Hampshire.
OKW Sales and Marketing Director Robert Cox said: "When ROLEC first launched aluPLUS it was announced that new sizes would be added later and now here they are.
"ROLEC aluPLUS is now available in eight standard sizes with widths ranging from 84 mm to 160 mm."
Features of ROLEC aluPLUS diecast enclosures:

Modern aluminium enclosures for electrical equipment and industrial electronics
Top quality enclosures that can be installed on walls, bulkheads, machines
Industry standard installation dimensions for mounting plates and PCBs
Enclosures can be mounted even while closed, protecting the electronics
Clip-on lid cover trims hide all the fixing and mounting screws – deterring tampering
1.7 mm lid recess for adding a membrane keypad or product label
Internal screw bosses for mounting PCBs, mounting plates and assemblies
Compatible cable glands
Options include IP67 and IP69K protection, lid hinged/support, EMC shielding, high temperature gasket, corrosion proof paint.
For further details about aluPLUS metal industrial enclosures, watch the video or view the ROLEC website and contact OKW Sales and Marketing Director Robert Cox +44 (0)1489 583858.
-Ends-
Notes For Editors
OKW Enclosures Ltd
15 Brunel Way
Segensworth East
Fareham
PO15 5TX
Tel: +44 (0)1489 583858
Fax: +44 (0)1489 583836
ROLEC has decades of experience in the design and manufacture of industrial enclosures for electronics and electrical equipment.
Its extensive range of innovative enclosures is brought to you in the UK by partner OKW Enclosures Ltd.
ROLEC is a medium-sized family-owned enterprise which manufactures exclusively at its factory in Rinteln, northern Germany.
ROLEC keeps all catalogued products in stock and uses ultra-modern machines to modify enclosures to individual requirements. ROLEC supplies fully finished enclosures without delay at competitive prices and "just in time".