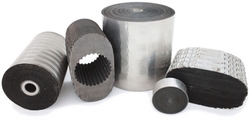 Using urea to reduce nitrogen oxides from diesel exhaust is totally impractical. Not only does urea freeze in cold weather, the method requires an extensive tank, tube and spray system, and the container must be refilled frequently and cleaned regularly.
Los Angeles, CA (PRWEB) October 20, 2010
ACAT Global LLC, a leader in clean air technology for emissions control, has introduced a non-urea solution for retrofitting diesel engines in all applications. The company's markedly advanced stainless steel alloy foil catalytic converter substrate cores eliminate toxic nitrogen oxides (NOx) and other pollutants from diesel engine exhaust without the need for a urea additive.
The company's commercial diesel retrofit kit, featuring the ACAT Non-Urea Syngas-Based Diesel Emission Reduction System, enables manufacturers to reduce NOx to nitrogen gas without requiring a separate containment and injection urea dosing sub-system. No secondary exhaust sub-system is required because ACAT's metal monoliths used in diesel catalytic converters rely on high thermal conductivity instead of chemical reaction in reducing exhaust gas NOx. In addition to ACAT's monolith cores, the retrofit kits feature synthesis gas (syngas) generators and diesel particulate filters.
"The use of urea to reduce nitrogen oxides from diesel exhaust is totally impractical," said Leisa Cuddy, ACAT director of communications. "Not only does urea freeze in cold weather, the method requires an extensive tank, tube and spray system, the container must be refilled frequently and cleaned regularly, and widespread adoption necessitates a nationwide fueling infrastructure. Yet it's been the only available diesel nitrogen oxide reductant system—until now that is with the introduction of the ACAT system."
ACAT's Non-Urea Syngas-Based Diesel Emission Reduction System can be used in any diesel-based application: trucks, buses, diesel auto, locomotives, aviation, marine, non-road construction and agricultural equipment, stationary industrial and mining equipment, megawatt engines that supply energy to coal-fired power plants, engine-electrical generator sets, auxiliary power units, self-powered refrigerated containers and more.
Emissions from diesel engines are of growing concern to government regulators worldwide. The European Union (EU) has established a series of increasingly strict regulations for diesel powered engines scheduled to take effect in January 2011. In the U.S., the Environmental Protection Agency (EPA) and the California Air Resource Board (CARB) have established similar requirements.
Diesel exhaust contains a mixture of more than 450 different components, including vapors and fine particles. More than 40 chemicals in diesel exhaust are considered toxic air contaminants by the State of California. Diesel engines are the source of harmful hydrocarbons, carbon monoxide (CO), particulate matter (PM) and NOx that pollute the air and are linked to respiratory diseases.
The EPA recommends a wide range of emission reduction strategies to suit any type of diesel vehicle or equipment, including retrofitting engines with emission control systems such as diesel particulate filters or oxidation catalysts. ACAT's commercial diesel retrofit kit is an attachable subsystem that features:

Diesel Particulate Filter (DPF)—a device designed to remove diesel PM or soot from diesel engine exhaust gas. The dust stored in the filter is periodically regenerated (combusted) to keep the filter from clogging.
Syngas Generator—Synthesis gas, a combustible fuel source consisting primarily of hydrogen, CO and often carbon dioxide (CO2), is used as an intermediary building block for the final production (synthesis) of other various fuels. ACAT's non-catalytic, auto-thermal Syngas Generator is a fuel reforming device that converts diesel fuel and a small portion of an engine's exhaust flow into a hydrogen-rich syngas stream useful for active regeneration of particulate matter in DPFs.
Catalytic Converter with ACAT's stainless steel alloy foil substrate core. The substrate core is the heart of the catalytic converter, supporting the washcoat and catalytic agents that convert hydrocarbons, CO, NOx and other toxic pollutants in engine exhaust into water vapor, CO2 and nitrogen gas.
ACAT's metal monoliths are the first available on the market to offer a significant improvement over the brittle ceramic honeycomb substrates commonly used in today's diesel exhaust system catalytic converters and particulate filters. Ceramic tends to become soft at higher temperatures, to easily clog and to disintegrate from thermal expansion and road shock during normal driving. Metallic monoliths provide high thermal conductivity and have a high tolerance for mechanical stress and vibrations. Moreover, the cell walls can be thinner compared to their ceramic counterparts.
ACAT's Commercial Diesel Retrofit Kit will be available by the first quarter of 2011, with original equipment applications to follow.
About ACAT Global
ACAT Global LLC has a deep commitment to research and development, and is exploring partnership opportunities with various progressive companies to bring about industry-changing solutions to emissions challenges. ACAT's patented technology capitalizes on aggressive emissions policies worldwide and in North America as set by both the EPA and the California Air Resources Board (CARB).
Contact Leisa Cuddy, ACAT Global Director of Communications, at Ph: 949-235-7576; Email: leisacuddy(at)acatglobal(dot)com. Web: http://www.acatglobal.com
Media Contact:
Ned Madden
Rodheim Marketing Group
949/547-0143
ned(at)rodheim-marketing(dot)com
###