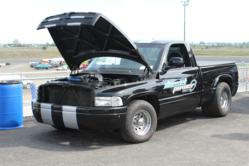 Spokane, Washington (PRWEB) July 08, 2011
The latest project at Diesel Power Products is a 1994 12 Valve Cummins short box regular cab drag truck. It is the perfect mesh between a diesel truck and a street able muscle car.
The truck was originally built by Darin Honodel with the help of Bill Fletcher from Diesel Pros in Stanwood, WA and Jason Burton from NorthWest Customs in Spokane, WA. It was Burton who built the turbo piping and the custom roll cage. The truck has run in the 10's consistently for the last few years with a best run of 10.2 seconds and with a fastest run of 133 mph.
Some of the highlights of the original build are:

Diesel Pros cam and rotating assembly
Industrial Injection Phat Shaft 66 over Big Brother twin turbos
BD Cool Covers
ATS exhaust manifold
ATS full billet Stage 6 transmission with Five Star Torque Converter
BD Diesel FlexPlate
Massive injectors from Industrial Injection
Custom P7100 injection pump from Diesel Pros being fed by 2 Mallory 150 fuel pumps
Mahle 30 over pistons shaved to drop compression to 14.68:1, 14mm head studs
O-ringed head
Custom Diesel Pros valve springs and Nitrous Express progressive nitrous system
The box is mini-tubbed to accommodate massive Mickey Thompson 31x14x15 Sportsman SR's. The result of these mods is an extremely smooth running truck that should produce upwards of 1000 RWHP on the dyno.
Interior upgrades include a custom dash with 9 Autometer Sport Comp Ultralight gauges monitoring every possible parameter, B&M ratchet shifter, Scat Pro Car racing seats with 5 point harnesses, and a stereo that would make Snoop Dogg jealous.
Future mods include 4 link rear suspension, FLO~Pro Black Stacks, AFE air, oil and fuel filters, Flex-A-Lite electric fans and a custom Diesel Power Products wrap from Ken Fuher Signs in Spokane.
Perhaps the best part is that the truck is still street legal -- at least due to the presence of a license plate. Driver and part owner Tyler Lucas has been using it as a daily driver as we work out the final bugs before its initial race day at Spokane Raceway Park later in July. The truck should see action next year in the NHRDA Race Series. For the remainder of this year it will see continuous action at Spokane Raceway Park and various dyno competitions around the North West.
(Diesel Power Products is proud to supply Diesel Performance Parts to both local and national customers. To learn about our latest specials and discounts please visit us at http://www.dieselpowerproducts.com or call 866.379.8685).
# # #