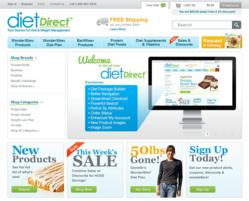 This is just the beginning! Keep an eye on Diet Direct. We're about to do some amazing things and we'd like you to be there to enjoy them.
Wilmington, NC (PRWEB) August 15, 2012
The design team began by asking how the site could best serve the people who rely on Diet Direct to help them lose extra pounds and support their weight management programs. Merging customer feedback with proposals from all sections of the company led to an extensive collection of suggestions.
A strong desire to create a seamless shopping experience slowly transformed this wish list of features into a totally integrated site with a strong visual appeal. Using some of the most advanced technology in the industry, DietDirect.com offers a totally secure shopping experience that includes the following enhancements:

Enhanced navigation helps users drill down by their diet needs
Powerful search tools find the right products fast
The ability to customize WonderSlim® Diet Packages online
Quick zoom brings up product details instantly, including vital nutritional information
See honest product feedback from other Diet Direct customers; write and manage your own reviews
Detailed shopping cart and streamlined checkout
In the upcoming months, Diet Direct plans to use the power of this new eCommerce platform to give their customers more valuable tools and increased savings. In that spirit, the company will soon be unveiling a "Refer a Friend" program which will give Diet Direct fans a chance to share their recommendations and experiences while earning valuable dollars to use on their own purchases.
Future plans include integrating shopping activities and email messages to make sure each individual is receiving the best value on items they order most often and expanding the site offerings to meet a variety of customer needs.
Although they are certainly excited to be launching their new site in its present form, the staff at Diet Direct is eagerly looking forward to additional enhancements. When asked about his plans for the new site, owner John Thomas replied. "This is just the beginning! Keep an eye on Diet Direct. We're about to do some amazing things and we'd like you to be there to enjoy them."
About Diet Direct
Located in historic Wilmington, NC, Diet Direct has grown from humble beginnings to become the leading online source for the same medical grade protein supplements used by hospitals, physicians and weight loss clinics. Diet Direct's exclusive WonderSlim brand has helped tens of thousands of people lose and maintain weight with their selection of high protein diet foods and diet meal plan.