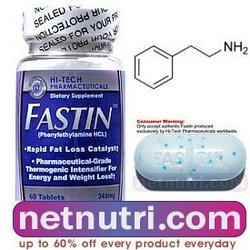 West New York, NJ (PRWEB) December 12, 2007
Netnutri.com announced the release of Fastin™, a weight loss pill from Hi-Tech Pharmaceuticals that is expected to be among the top selling diet aids in 2008.
Hi-Tech Pharmaceuticals recently acquired the trade rights to Fastin ™ from Smith Kline Beecham Pharmaceuticals, who had previously manufactured (phentermine HCL) under the brand name Fastin ™.
Fastin is a pharmaceutical-grade dietary supplement indicated for weight loss in extremely overweight individuals. Fastin ™has both immediate and delayed release profiles for appetite suppression, energy, and weight loss. Fastin's patent pending formula contains (ß-methyl-phenethylamine) 37.5mg and was developed with the help of Mark Wright, M.D, a bariatric physician.
The National Center for Health statistics reports that between the year 1962 and the year 2000, the number of obese Americans grew from 13% to an alarming 31% of the population.
-63% of Americans are overweight with a Body Mass Index (BMI) in excess of 5.0.
-31% are obese with a BMI in excess of 30.0.
-Childhood obesity in the United States has more than tripled in the past two decades.
-According to the U.S. Surgeon General report, obesity is responsible for 300,000 deaths every year.
For additional information about Fastin or other weight loss aids available from netnutri.com visit us at http://www.netnutri.com
Fastin ™ is available on line at http://www.netnutri.com or may be ordered directly by calling 877-807-2007.
###