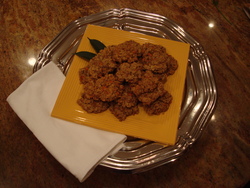 The Do-It-Yoursef Diet Cookie is a smart alternative to snack bars, which are usually candy in disguise, contain a lot of unpronounceable chemicals and cost a fortune.
Center Harbor, NH (PRWEB) November 23, 2010
The Do-It-Yourself Diet Cookie recipe gives dieters an affordable, convenient and tasty way to take off weight quickly and easily. Cookies are a familiar, portable, convenenient and satisfying food choice. Now they can be healthy weight loss aids, too. Have them for snacks or as meal replacements for breakfast and lunch.
The Do-It-Yourself Diet Cookie can also be used as a jump start weight loss program for a week. Simply eat four cookies a day and one "real meal" consisting of 6 ounces of lean protein, 8 ounces of cooked veggies (anything except potatoes or corn) and 8 ounces salad with low-calorie dressing. There's no need to wait weeks or months to see a big change in weight. A lot of experts think slower is better, but it isn't. The people who see quick results are the ones who are most likely to keep going.
Developed by The Sugar-Free Miracle Diet Company in Center Harbor, NH, the Do-It-Yourself Diet Cookie recipe, priced at just 99 cents, is an affordable alternative to all expensive diet snacks. Most snack bars, for example, cost $2.50 each. And the diet cookies that you buy online cost anywhere from $40 to $60 a week, plus shipping and handling.
The Do-It-Yourself Diet Cookie is a healthier snack choice because it doesn't contain any caloric sweeteners, unpronounceable chemicals, preservatives, wheat products and other undesirable ingredients. Now you can...

Control ingredients, especially by eliminating caloric sweeteners and wheat products.
Increase fiber and veggie consumption
Lower cholesterol with oats
Experience satisfaction, flavor and fullness
Make your own fresh weight loss cookies at a fraction of the cost
"I found everything and made the cookies exactly according to your directions," says customer Bonnie Longwill. "Flavor was incredibly good. Loved them...a total thumbs up."
The Sugar-Free Miracle Diet Company was founded in 2008 by Karen Bentley and is a leading provider of a sugar-free weight loss program and sugar-free cookbooks. Over 1,070 people have been helped to lose weight. The Do-It-Yourself Diet Cookie recipe is the latest Sugar-Free Miracle product for fast, affordable, practical weight loss. Go to http://www.sugarfreemiracle.com to purchase the 99 cent recipe.
# # #