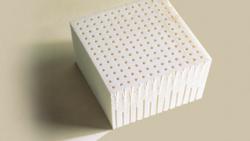 San Diego, CA (PRWEB) May 03, 2013
Learning about latex mattresses is not an easy task for shoppers, with so many different but similar choices and options to sort through. The latest release from Mattress Journal looks specifically at natural latex mattresses, describing the benefits and variations in detail.
The article, "What's The Difference Between Natural Latex Mattress Choices?", first explains at why natural latex in particular offers consumers a good choice. Benefits considered include comfort advantages like greater owner satisfaction, breathability and resilient support. Additional benefits discussed include reduced allergens and chemicals, greater durability, and eco-friendly, renewable plant-sourced materials.
After explaining who might benefit from natural latex, Mattress Journal discusses how natural latex and 100% natural latex may vary, with the former containing a portion of synthetic material. The blog also suggests avoiding adhesives, chemical flame retardants, and filler foams in order to preserve the benefits of all-natural latex mattresses.
Mattress Journal then describes the key features that may help consumers differentiate similar models of natural latex beds. These include latex type, layers, cover materials, support level, and certifications.
As for latex type, Mattress Journal makes the case for Talalay process latex over Dunlop, based on consistency and durability. They suggest that the mattress be made of all-latex without springs, furniture foams, or fiber quilting as this might inhibit the natural benefits of the latex material. In line with this suggestion, the ideal cover is described as organic cotton and wool of one-half inch or less, in order to preserve breathability and keep chemicals out. Mattress Journal also looks at how mattress thickness can affect support, and suggests readers check for specific certifications when comparing beds, like Oeko-Tex 100 and organic-certifying agencies.
To demonstrate how these factors compare in real products, Mattress Journal considered three brands, each 100% natural Talalay latex mattresses. The three brands had similar options, all-latex designs, as well as organic cotton and wool covers. The differences present themselves in the certifications and prices. Only two of three were found to have organic and safety certifications, and of those two, costs showed fairly significant variances. Mattress Journal identifies 100% natural latex mattresses from Astrabeds.com as the best value based on their comparison.
Choosing a mattress usually boils down to personal preference and perceived value, thus understanding what makes one bed more valuable or comfortable than other can prove useful when making a purchasing decision. Overall, the information and examples presented by Mattress Journal provide useful guides for consumers considering a latex bed but unsure what differentiates model one from another.
MattressJournal.com offers the latest bed news and mattress reviews to help shoppers research purchases and get the best sleep possible. Through careful, independent analysis of mattress types, brands, and sleep research, the blog offers expert opinions in readable, relatable format. With a focus on making the buying process simpler, Mattress Journal proves a valuable resource for consumers.