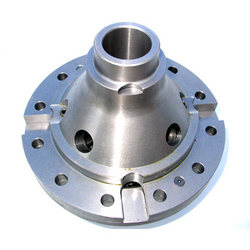 The company inventory of front and rear differential parts can be searched on the company website.
Atlanta, Georgia (PRWEB) May 23, 2013
The use of off-road vehicles in the U.S. and Canada has helped many automakers to benefit. Owners of these vehicles having difficulty locating essential drive train parts can now use a new resource online. The AutoProsUSA.com company has now discounted its differential case assemblies for vehicle owners. The lowered pricing is expected to help provide a better resource to purchase these parts aside from using a dealership. The company inventory of front and rear differential parts can be searched on the company website at http://autoprosusa.com/used-differential-cases-for-sale.
Jeep, Ford, General Motors, Chrysler and Toyota represent some of the automakers supplying four-wheel drive vehicles in North America. These companies rely on the drive train system to supply the off-road capability and traction control these systems are known to provide. The secondary parts market is one source that has been used by buyers to find more affordable replacement parts for capable vehicles.
The high mileage that can be found on some parts could limit the lifespan of a replaced part. The Auto Pros company now makes it possible for all buyers to benefit from its parts evaluation procedures prior to actual shipment. This is helping to ensure all parts are higher than average quality.
The upgrades that have been made in inventory this year are now reflected in the new method of online price distribution in place. A quote system for buyers to use on the Internet has been included on the AutoProsUSA.com website. The installation of this system is providing buyers with a one-step process to obtain pricing for all parts in the company database.
This database now holds thousands of parts and all updated pricing is generated at the click of a button. Buyers using this system now have an alternative to the standard toll-free number that has been used since the company launch.
The video channel created by this company this year has recently been updated. More parts videos have been included this month as part of an ongoing educational series. The parts that are stocked by this company are introduced in separate videos to inform buyers of important information. These marketing videos are offered as an easier way for buyers to perform research on parts before purchasing. The most recent videos can be viewed at http://www.youtube.com/watch?v=9tCwVN5r-98. Additional modifications to this new marketing method are expected to be put in place before the close of the year.
About AutoProsUSA.com
The AutoProsUSA.com company provides its customers with low prices for used auto parts in all sections of the U.S. This company offers its large inventory and makes frequent updates and changes to the parts that are carried. Inclusions like foreign parts this year has helped to bring a new clientele of buyers into the company network. The warranties offered to protect each part are examples of created incentives by the AutoProsUSA.com company. The staff of experts who assist each customer all have auto industry experience to make the buying experience faster and easier for parts buyers online or offline.