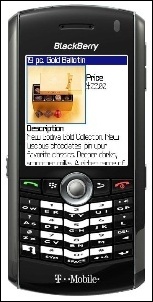 Digby allows consumers the freedom to do what they need to do, when they want to do it.
Ferndale, WA (PRWEB) January 24, 2007
"Mobile devices have become an integral part of everyday life, with features such as cameras, calendars, address books and wireless access to email and the Internet. Users however, are continuing to look for more mobile services," said Dave Sikora, President and CEO of 30 Second Software. "With Digby, we have created a shopping service that offers an effortless yet rich buying experience on BlackBerry handsets, enabling users to easily buy products for themselves and others while they are mobile."
Digby's product catalog was developed in association with its retail partners to deliver an e-commerce platform optimized for mobile devices. Current strategic partners include FTD Flowers, Godiva Chocolatier, Vermont Teddy Bears and Capalbo's Giftbaskets with new retailers expected to join Digby on a regular basis. The Digby catalog is updated daily to both ensure freshness of product content and enable merchant specific promotions of certain products.
"BlackBerry users recognize the productivity and convenience that comes with mobile connectivity," said Jeff McDowell, Vice President, Global Alliances of Research In Motion. "Digby is an exciting mobile commerce service offering that enables BlackBerry users to more easily buy popular products directly through their handsets."
"Godiva Chocolatier is a leader in the premium chocolate category and an e-commerce pioneer. We believe the mobile marketplace is an exciting opportunity that is a natural extension to our e-commerce marketing strategy," said Gene Dunkin, President of Godiva Chocolatier. "We are thrilled to be a part of this innovative service offering for the BlackBerry, and look forward to working with 30 Second Software to deliver our selection of indulgent chocolates and exceptional customer service to the rapidly growing population of BlackBerry users."
"The market is ripe for e-commerce to explode on mobile devices," said Ian Gilliot, Managing Director, IGR Research, "but merchants have been challenged on how to deliver an experience as rich as the desktop to these devices. Applications such as Digby bridge that gap by delivering the type of rich content that users demand. To BlackBerry users, their devices are essential lifestyle convenience tools which contain all of their personal and professional information. Digby is a service that leverages this lifestyle information to enable BlackBerry users to be more productive."
About Digby
Digby provides users a friendly graphical interface from which they can browse thousands of products from name-brand retailers, some of which are stored locally and others that can be found through an innovative product search feature. The Digby Marketplace is open 7 days a week, 24 hours a day, with a catalog that is updated on a daily basis to keep content fresh and promote special products offered by merchant partners.
Digby offers users:
-- Powerful search capabilities
-- Easy to navigate graphical interface
-- Rich content including full product descriptions and images of all products
-- Mobile shopping cart with support for multiple products and vendors in a single order
-- Calendar and address book integration including reminders for special events
-- Secure transactions and password protected buying
-- Ability to preserve the vendor relationships by ordering with their own account details
"Digby is a ground-breaking offering for mobile users looking to get the most out of their BlackBerry handsets," said Dave Sikora, CEO of 30 Second Software, Inc. "Digby allows consumers the freedom to do what they need to do, when they want to do it."
To find out more about Digby visit http://www.digby.com
About 30 Second Software, Inc.
30 Second Software is focused on delivering electronic commerce services that enable mobile device users to accomplish important tasks in 30 seconds or less. 30 Second Software was formed to advance the convenience value proposition that is demanded by the mobile marketplace. The company's initial product offering, Digby, is an electronic commerce service that radically simplifies the buying experience by combining rich content from name brand retailers with an intuitive shopping process that is optimized for mobile devices. 30 Second Software is a privately held company based in Austin, Texas.
For more information about 30 Second Software or for merchants looking to join the Digby Mobile Marketplace, visit http://www.30secondsoftware.com.
The BlackBerry and RIM families of related marks, images and symbols are the exclusive properties and trademarks of Research In Motion Limited. RIM assumes no liability and makes no representation, warranty or guarantee in relation to third party products or services.