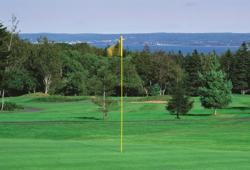 We are preparing to open the doors on May 4th weather permitting, and will close for the season in October.
Halifax, Nova Scotia (PRWEB) March 15, 2012
The Digby Pines Nova Scotia golf course will reopen for the 2012 golf season on May 4th, 2012, weather permitting. The award-winning Stanley Thompson designed course overlooks the Bay of Fundy, Nova Scotia and is just minutes away from the Digby Pines Nova Scotia accommodations. The Digby Pines Resort will open on May 18th, 2012, two weeks later than the golf course.
"We are looking forward to another great golf season here at the Digby Pines," states Rene LeBlanc the General Manager at the Digby Pines Golf Resort. "We are preparing to open the course on May 4th weather permitting, and will close for the season in October."
Digby Pines Nova Scotia Resort features one of Canada's finest golf courses designed by Stanley Thompson. The famous Canadian architect was responsible for such world class courses as Banff Springs, Jasper Park and the Highlands Links in Cape Breton Nova Scotia.
The challenging 18-hole championship Stanley Thompson golf course is just a few minutes from our Nova Scotia accommodations. The true beauty of Nova Scotia has been captured as our course winds its way through picturesque pine trees and over winding brooks which widens into ponds on holes 2 and 16. The true beauty of Nova Scotia has been captured and retained for your golfing pleasure.
Guests visiting for a Nova Scotia family vacation can enjoy the spectacular world-recognized course. For more information on Nova Scotia Golf Packages and Family Vacation Packages, visit Digby Pines online: http://www.digbypines.ca
About Digby Pines:
Nova Scotia Signature Resorts are owned by the province of Nova Scotia and managed by New Castle Hotels & Resorts. The Digby Pines Golf Resort and Spa is located on the shores of the Bay of Fundy and features a Norman style chateau main lodge and cozy cottages on beautifully manicured grounds, AVEDA concept spa, tennis courts, swimming pool, fitness centre and 18 hole Stanley Thompson Golf Course. Keltic Lodge Resort and Spa overlooks the Atlantic Ocean on all sides and offers a historic main lodge, Inn at Keltic and cottages, many with views. The resort features a swimming pool, hiking, AVEDA concept spa, fitness centre, nearby sea kayaking, mountain biking and golf at the award winning Highlands Links Golf Course. Liscombe Lodge Resort and Conference Centre overlooks the Liscomb River on the Nova Scotia's Eastern Shore and is known as the nature lover's resort with hiking, biking, fishing, boating, enclosed swimming pool and fitness centre. All three resorts have excellent dining venues featuring local seafood and traditional Atlantic Canadian fare.