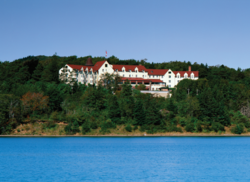 We're looking forward to welcoming guests back to the Digby Pines for our exciting 2012 season
Halifax, Nova Scotia (PRWEB) March 09, 2012
Nova Scotia Golf Resort, the Digby Pines Golf Resort and Spa opens for their 2012 season on Friday May 18th, just in time for Annapolis Valley summer events and festivals. After the resort renovations, the Digby Pines will start off the season with a new look as well as fun Nova Scotia vacation packages, delicious restaurant menus and plenty of children activities.
"We're looking forward to welcoming guests back to the Digby Pines for our exciting 2012 season," says Rene LeBlanc General Manager of Digby Pines. "With our renovations underway, we are excited to showcase everything our resort has to offer this season."
The Digby Pines offers many exclusive Nova Scotia packages including golf getaways, family vacations, dining experiences and much more. The Nova Scotia golf resort features an 18-hole Stanley Thompson designed course which overlooks the world-renowned Bay of Fundy, Nova Scotia.
Nova Scotia whale watching is at its finest in Digby Nova Scotia. The Nova Scotia resort has a variety of on and off-site activities and guests can take visit various tourist and local attractions through the offered excursions. In addition to great things to do on and off-property, visitors can experience the best of Atlantic cuisine and the famous Digby scallops while dining at the Digby Pines in the award-winning Nova Scotia restaurant, Churchill's Restaurant. The Nova Scotia Spa at Digby Pines is an AVEDA concept spa with views of the Minas Basin and is one of the only full service resort spas in Atlantic Canada.
Visit Digby Pines online to find out more about the events, activities, and accommodations: http://www.digbypines.ca
About Digby Pines Golf Resort and Spa:
The Digby Pines Golf Resort and Spa is located on the shores of the Bay of Fundy and features a Norman style chateau main lodge and cozy cottages on beautifully manicured grounds, AVEDA concept spa, tennis courts, swimming pool, fitness centre and 18 hole Stanley Thompson Golf Course. For complete information visit http://www.digbypines.ca