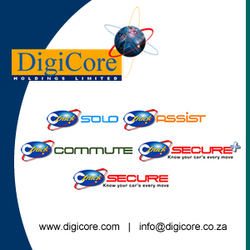 DigiCore is proud to be part of the process to assist eThekwini's management with world class technology driving increased service delivery to the community while reducing operational costs
(PRWEB) September 5, 2007
The effectiveness and reliability of the C-track vehicle tracking and fleet management system had been emphasised with the drastic reduction of vehicle abuse and the recovery of 12 stolen vehicles of the eThekwini Municipality recently.
In the past the eThekwini Municipality were concerned that vehicles in their R1.2 billion fleet, were being damaged and their lifespan shortened by reckless driving and abuse. Following a R 35 Million investment in The C-track satellite-monitored system these vehicles can now be tracked in the event of a theft or hijacking and for the monitoring of unauthorised use of the vehicles.
eThekwini Municipal Manager, Michael Sutcliffe says, "Due to the fact that the C-track system tracks speed, harsh breaking, excess idling, battery tampering and other infringements, we could manage our fleet more effectively and ensure we have more driver control, monitoring and correction."
'No-go zones' like shopping malls, can now also be programmed into the system, ensuring drivers do not waste time and money. "The new system will result in vehicles being used more effectively and serviced more timeously, with the emphasis on management functionality," says Sutcliffe.
90 Percent of fines incurred by municipal vehicles were speeding-related and speed is considered to be the main contributor to serious accidents. According to Sutcliffe, "We hoped that costs incurred from fines and accidents would be considerably reduced if speeding was cut down. Fuel costs would also be reduced as extra and unnecessary trips would be eradicated."
"DigiCore is proud to be part of the process to assist eThekwini's management with world class technology driving increased service delivery to the community while reducing operational costs," says DigiCore CEO Nick Vlok.
Specific details of accidents can be tracked on a second-to-second basis, including the speed of the vehicle before impact and at the point of impact. The detailed information is admissible in court cases and internal disciplinary hearings.
About Ethekwini Municipality:
The eThekwini Municipal Area stretches from Unkomaas (in the south) to Tongaat (in the north) in KwaZulu-Natal. This area coves an area of 2297 square kilometers with a population of about 3 million people around the Durban Metropolitan area. 50% Of this area is being used for subsistence farming and 2% is under urban settlement. The provision of services to these areas is the key challenge of the council.
About DigiCore:
DigiCore Fleet Management is part of the Johannesburg Stock Exchange Listed DigiCore Holdings group, a global company with 21 years experience developing and implementing end-to-end vehicle tracking and fleet management solutions.
DigiCore's advanced technology is fitted to more than 230,000 vehicles operating in 31 countries across four continents. DigiCore works in partnership with its customers to develop solutions that deliver measurable business and operational benefits by providing total visibility and control of mobile assets and mobile work forces. DigiCore utilises a range of vehicle location, fleet management, satellite navigation and security tools, to provide commercial vehicle, van and car fleet operators with scaleable solutions that offer flexibility, reliability and functionality.
###