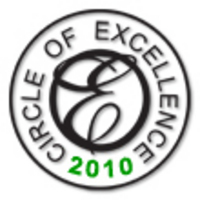 The Circle of Excellence acknowledges Digiscribe's value, distinguishing their accomplishments and celebrating the integrity, credibility and leadership they bring to the Digitech Resellers community, said Sean Morris, Digitech Director of Sales.
Elmsford, NY (PRWEB) March 10, 2010
Digiscribe, a top ten reseller worldwide of Digitech's electronic content management software, has been inducted into the prestigious Digitech 2010 Circle of Excellence, based on product suite sales and superior customer support.
"'We're proud to be a member of this prestigious group of resellers. The award recognizes our commitment to providing cost-effective and easy to use document management solutions to companies of any size through Digitech's product suite. Our involvement in the Circle of Excellence allows a direct line between our customers' evolving needs and Digitech's development team. This helps ensure that software enhancements and product line expansion meet the electronic content management needs we see in the market." said Mitch Taube, CEO of Digiscribe.
"Digitech Systems appreciates the time, energy and superior service Digiscribe provides to its customers and partners" said Sean Morris, Digitech Director of Sales.
Digiscribe has been a reseller of Digitech's PaperVision Enterprise and ImageSilo electronic content management software since 2002.
About Digiscribe
Digiscribe implements document scanning and electronic content management services that allow companies to operate more efficiently and more profitably. Our areas of expertise include; document scanning, document imaging, indexing, e-forms, workflow automation, online and in-house document management systems, document scanning software, mailroom services, forms processing, e-mail management, full-text OCR and box & media storage. Reduce operating costs, streamline key business processes, ensure regulatory compliance and go green by eliminating paper. No capital investment or IT support is required. Implementation is quick and easy.
For more information call 800-686-7577x 103 or visit http://www.digiscribe.info.
About Digitech
Established in 1997, Digitech Systems has helped companies in many industries manage, retrieve and store information. As the leading provider of Software as a Service (SaaS) and on-premise Enterprise Content Management (ECM), Digitech Systems creates a competitive advantage for customers by giving them the ability to get any document, anywhere, anytime. http://www.digitechsystems.com
# # #