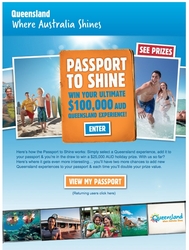 We have entrants in 'Passport to Shine' from 107 countries with the highest number of entries from Australia, Taiwan, the US, Malaysia, UK and New Zealand so far said Tourism Queensland's Chief Executive Officer, Anthony Hayes
(PRWEB) October 20, 2010
The campaign developed by Brisbane-based digital agency XCOM Media has so far delivered Tourism Queensland impressive results including; being shared over 200,000 times (via email, Facebook and Twitter) and has more than tripled the number of Facebook 'Likes' from 34,000 to over 117,000, in the first week.
"We have entrants in 'Passport to Shine' from 107 countries with the highest number of entries from Australia, Taiwan, the US, Malaysia, UK and New Zealand so far", said Tourism Queensland's Chief Executive Officer, Anthony Hayes.
Passport to Shine is a 3 phase campaign giving users the ability to select one experience for their Queensland passport every two weeks. Every time they select a new experience their prize value doubles. Users are also able to gain bonus entries by sharing with their friends via Email Marketing and posting to twitter.
"The campaign aims to distribute Queensland's new brand through Social Media whilst creating multiple brand impression opportunities through the 3 phases" Hayes said.
"There are some additional surprises in store for five countries where we are using Geo-targeting capabilities to publish targeted content to Facebook users from these countries" said XCOM Media founder and director, Rob Bell.
"Additionally we have used GeoIP tools to display where the shine is being shared through out the globe on a world map. You can see it on the 'Map and Video' tab on Tourism Queensland's Facebook profile" Bell said.
The campaign kicked off on 12 October and runs until 22 November and is the first global campaign activity in the roll-out of Tourism Queensland's landmark new tourism brand platform, Queensland, Where Australia Shines.
Digital Agency > XCOM Media, Brisbane, Australia
Campaign > http://www.facebook.com/visitqueensland (Facebook brand page)
Client > http://www.queenslandholidays.com.au (Tourism Queensland)
Media Contacts:
XCOM Media: +61 7 3666 0544
Tourism Queensland: +61 7 3535 5010
###