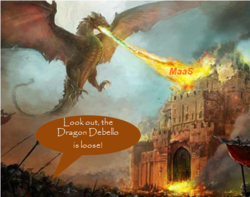 MaaS is a TRUE market disruptor, a "Pay for Performance" model that makes success a joint reward.
Irvine, California (PRWEB) May 07, 2013
When was the last time that a Digital Agency was willing to put their own skin into the game for its clients? and by skin we mean dollars!
With MaaS, marketing as a service, Debello and the client sit down together to agree on what the success metrics for the campaign will be. Once agreed upon, the client agrees to pay a small monthly fee for the conduct of the engagement, and only when and if the previously agreed upon success metrics are met, does Debello receive payment for its marketing services.
The Debello Agency was created with the pedigrees of some of the most talented and resourceful on-line talent, spanning virtually every essence of a digital agency's services, including social media, SEO, digital technology, digital strategy and especially digital marketing. In fact, the Debello MaaS approach was created because once the full team was assembled it became obvious that there was absolutely no fear of an online campaign or endeavor not succeeding. The MaaS concept was validated once the Debello team added up the dollar amounts of their collective campaigns, the total was over 2 billion dollars in direct online sales and associated revenue, all this in under 7 years.
Why is MaaS different, because now the client has a true and incentivized partner in Debello. The client stays committed to Debello via the small monthly fee and Debello is committed to making the client successful as that is when Debello gets paid. Now the client only pays for performance, not for broken promises, or things that didn't work out as planned, or shifting conditions that were not accounted for.
This company is different. The model is different, and success is made to happen, and not just hoped for. The Debello Agency, will vanquish, win, conquer, and end the conflict of succeeding in the Digital World.