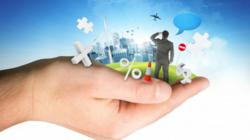 Responsive design will be one of the biggest web design trends of 2012
(PRWEB) April 30, 2012
Leading Internet marketing agency Digital Brand Services launch a new website using CSS media queries and responsive design. The new website selectively targets device screen size and layout orientation to provide an optimized user experience on all devices.
"Responsive design will be one of the biggest web design trends of 2012," responded David Marshall, founder of Digital Brand Services, when asked about the impact of the mobile revolution on website design. "Big brands are struggling with this," continued Marshall. "Information design is very important to big brands and traditional technologies and approaches make it very difficult and cost prohibitive to tailor the user interface for every screen resolution."
As the diversity of mobile devices, tablets and PCs continues it is becomes cost prohibitive for most organizations to optimize designs for all devices using traditional methods. Responsive Design enables users across a broad range of devices and browsers to access a single content source, laid out so as to be easy to read and navigate with a minimum of resizing, panning and scrolling.
"Responsive design and the use of fluid proportion based grids requires a little more up front planning but it saves significant effort and maintenance down the road," says Joe Barnett, Head of User Experience and Design. Making use of CSS media queries to selectively target device screen size and layout orientation in CSS stylesheets enables you to deliver a high quality and optimized experience for all users with the least overall effort."
In addition to the new mobile friendly design, the main purpose of the new Digital Brand Services website has changed significantly. Instead of dedicating the homepage to describe the company's brand services the homepage is focused on articles and resources relevant to the services offered. The new website leads with content rather than service descriptions and is a useful resource for staff, clients and the broader community of internet marketing and user experience professionals to share and discuss resources.
About Digital Brand Services
Digital Brand Services is a leading Internet Marketing Agency that specializes in driving, engaging and converting customers. Several of the world's most popular websites use Digital Brand Services' Managed SEO, PPC, Display and Affiliate Marketing services to achieve maximum digital reach.