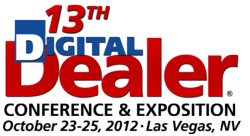 San Diego, CA (PRWEB) October 14, 2012
Automotive dealers and managers have always connected with their customers and communities. In the age of digital marketing, something has gotten lost in translation. With over 955 million active users, Facebook represents the world's largest local community. Keith Watts is sharing his expertise on this with dealers and managers.
What will dealers and managers learn and what action items will they take back to the dealership?
1. Learn how to turn the dealership's customers into an army of advocates for the dealership to generate more repeat and referral business.
2. Learn the secret to an engaging Facebook content strategy.
3. Learn how to create targeted Facebook ad campaigns that will engage the dealership's local communities and amplify its message.
Keith Watts is the head of Mid-Market Auto sales for Facebook. This team focuses on partnering with leading dealer groups and service providers to deliver scalable social solutions. He has been a member of Facebook's Global Customer Marketing team since 2008. Prior to joining Facebook, Watts worked for SalesForce.com and GoGORILLa Media.
Keith Watts will be speaking to dealers and managers about Facebook 2012 at the 13th Digital Dealer® Conference & Exposition, October 23-25, at The Mirage in Las Vegas, NV. For more information about Keith Watts and other speakers, visit: http://www.DigitalDealerConference.com
ABOUT DEALER COMMUNICATIONS
Dealer Communications is the leading multi-media information source for franchised automotive dealers and managers. Connecting with franchised automotive dealers and managers over ten million times per year, Dealer Communications publishes the monthly print and online editions of Dealer magazine and Digital Dealer magazine. Online weekly newsletters include Dealer; Digital Dealer; Dealer Fixed Operations; Dealer Pre-Owned; Dealer F&I, and Dealer Sales and Marketing. Dealer Communications also offers the Digital Dealer Webinar Series, with online presentations throughout the year. To see all that Dealer Communications offers, visit: http://www.dealer-communications.com.
Dealer Communications also owns and operates the Digital Dealer Conference & Exposition, the premier educational conference and expo dedicated to Internet and technology solutions for automotive professionals. Digital Dealer events deliver the largest array of speakers, peer to peer opportunities, and exhibit hall offerings – all carefully designed to impart cutting edge business strategies. With an audience of the industry's most progressive dealers and managers and the most innovative conference format, Digital Dealer provides the ultimate learning and networking environment.
The 13th Digital Dealer Conference and Exposition will be held October 23-25, at The Mirage in Las Vegas, NV. There will be new Digital Dealer Learning Labs, Digital Dealer Innovation Hours, a new Digital Dealer Peer Networking Roundtables dinner, more than 100 workshops, over 100 specialized technology solutions providers, and many more exciting new benefits. For more information, visit: http://www.DigitalDealerConference.com.