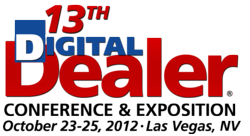 San Francisco, CA (PRWEB) September 14, 2012
SEO investments alone are no longer enough to improve search engine results and social marketing effectiveness. Dealers and managers need to ensure that all bases are covered to stay relevant in the evolving digital landscape.
It's time to reevaluate the dealership's SEO strategy. Search engines have changed dramatically in recent years, so many old content optimization rules no longer apply. Today, using fresh and relevant content to improve user engagement and social sharing reigns supreme. Bill will examine how dealers and managers can improve their marketing mix and wring more value out of social marketing strategies to increase website traffic and sales – at a fraction of the time and cost associated with traditional SEO programs. Bill Peña is sharing his expertise with dealers and managers.
What will dealers and managers learn and what action items will they take back to the dealership?
1. Learn about the impact of recent search engine updates to make informed SEO decisions.
2. Learn how to examine the intersection of search engines and social media and the impact on user engagement.
3. Learn how to structure marketing campaigns to encourage social sharing and drive search engine results.
4. Discuss do's and don'ts for social content that drives website traffic and leads.
5. Gain best practices for building a community of quality followers and learn how to target them effectively.
Bill Peña, chief architect at IMN (http://www.imninc.com), is an accomplished web developer, author, technology trainer and leader, with 13 years of experience in product design and development for high-tech content and e-commerce companies. Most recently, Peña led the development of IMN Social Driver, the company's full-service social media content marketing solution. Previously, he developed new multi-channel content marketing products and campaigns at companies like O'Reilly Media and Phoenix Media Communications Group. He also worked at World Travel Holdings, creating user interfaces to big data consumer applications.
Bill Peña will be speaking to dealers and managers about whether SEO can be replaced with social content, at the 13th Digital Dealer® Conference & Exposition, October 23-25, at The Mirage in Las Vegas, NV. For more information about Bill Peña and other speakers, visit: http://www.DigitalDealerConference.com
ABOUT DEALER COMMUNICATIONS
Dealer Communications is the leading multi-media information source for franchised automotive dealers and managers. Connecting with franchised automotive dealers and managers over ten million times per year, Dealer Communications publishes the monthly print and online editions of Dealer magazine and Digital Dealer magazine. Online weekly newsletters include Dealer; Digital Dealer; Dealer Fixed Operations; Dealer Pre-Owned; Dealer F&I, and Dealer Sales and Marketing. Dealer Communications also offers the Digital Dealer Webinar Series, with online presentations throughout the year. To see all that Dealer Communications offers, visit: http://www.dealer-communications.com.
Dealer Communications also owns and operates the Digital Dealer Conference & Exposition, the premier educational conference and expo dedicated to Internet and technology solutions for automotive professionals. Digital Dealer events deliver the largest array of speakers, peer to peer opportunities, and exhibit hall offerings – all carefully designed to impart cutting edge business strategies. With an audience of the industry's most progressive dealers and managers and the most innovative conference format, Digital Dealer provides the ultimate learning and networking environment.
The 13th Digital Dealer Conference and Exposition will be held October 23-25, at The Mirage in Las Vegas, NV. There will be new Digital Dealer Learning Labs, Digital Dealer Innovation Hours, a new Digital Dealer Peer Networking Roundtables dinner, more than 100 workshops, over 100 specialized technology solutions providers, and many more exciting new benefits. For more information, visit: http://www.DigitalDealerConference.com.