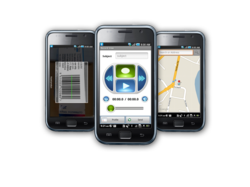 Unlike other vendor's applications, Winscribe for Android allows IT Managers to simply scan a barcode to set up the device in a few simple steps which saves our clients a significant amount of time, cost and frustration.
Auckland, New Zealand (PRWEB) June 16, 2011
Winscribe today announces the arrival of Winscribe Digital Dictation for Android™, the newest member to its suite of digital dictation mobility applications. True to Winscribe's philosophy of innovation and process optimization, Winscribe for Android delivers innovative features such as barcode recognition, geo-location and the ability to attach pictures to dictations, along with a specialized ergonomic user interface design that makes Winscribe for Android one of the most user friendly mobile dictation applications to date.
As a new addition to Winscribe's Dictation Mobility Suite which also includes dictation applications for BlackBerry® and iOS devices (iPhone®, iPad® and iPod touch®), Winscribe for Android offers a sleek dictation application for Android touchscreen devices. It streamlines and simplifies the dictation process and speeds up work turnaround with full recording capabilities, secure voice and data transmission, speech recognition integration and online/offline functionality.
Winscribe Digital Dictation for Android provides innovative barcode scanning functionality to accelerate workflow automation. In a hospital environment, this means that physicians may use Android smartphones to scan barcodes on patient files or wristbands; create recordings with a single tap on the phone's touchscreen and send recordings instantly to a transcriptionist or transcriptionist pool for processing. Combined with Winscribe's optional speech recognition technology, users can automatically complete document templates with personal and demographic information, based on information collected from the scanned barcode. Such process automation techniques are key drivers of efficiency gains in hospitals today and have helped improve service levels and reduce costs for hundreds of Winscribe's clients.
Greg Allen, CTO of Winscribe, explains potential applications for barcode technology are far reaching: "What we care about most here at Winscribe is usability and efficiency. We want to make things easy, right down to configuring our application. If we imagine a large legal firm may have hundreds of mobile authors, it's easy to see how setting up all these devices using Android's soft keyboard would be a time consuming exercise. Unlike other vendor's applications, Winscribe for Android allows IT Managers to simply scan a barcode to setup the device in a few simple steps, which saves our clients a significant amount of time, cost and frustration. It's our philosophy - we want to improve the process. And that is what sets us apart from our competition"
Ease of use and efficiency are not the only attributes of the new application. As with all other members of Winscribe's Mobility Suite, state of the art security features including secure transmission of files via HTTPS connection means users can be assured their sensitive information is safeguarded.
Developed based on feedback from Winscribe's mobility users, Winscribe's new Android application features one of the most intuitive user interfaces in the industry; allowing for true single-handed operation in the most challenging of circumstances. As a mobile application, Winscribe for Android is naturally suited for use in the field, and innovative features such as geo-location and the ability to take and attach photos to voice recordings make it a versatile tool for lawyers, insurance investigators, mobile emergency doctors, police and many other professions.
To find out more check out Winscribe's Digital Dictation for Android video, or visit the Digital Dictation for Android page on Winscribe's website. To download a free trial version, visit the Android Marketplace and search for "Winscribe".
About Winscribe
As the world's leading provider of digital dictation software, Winscribe supports businesses all over the globe with their requirements for digital dictation, digital transcription, voice recognition, and workflow management. Based on years of experience in the workflow management field Winscribe has now extended its offering to Business Process Management solutions for the legal market.
Winscribe is the largest supplier of digital dictation technology in the world with installations in 25 countries and more than 350,000 users globally. Winscribe provides solutions for a number of industries including Legal, Law Enforcement, Healthcare, Transcription, Surveying, Insurance and Government sectors and has a widespread global reach with strong customer presence in North America, Europe, Australasia, and South Africa.
Offices located in the USA, UK, New Zealand, Australia, and Switzerland and a network of more than 100 sales partners provide a global knowledge base that enables customers to successfully implement and maintain their Winscribe solution.
# # #