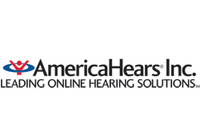 I'm very excited about my new position at America Hears, an innovative provider of digital hearing aids
Philadelphia, Pa. (PRWEB) October 16, 2007
America Hears, the premier manufacturer and provider of digital hearing aids over the Internet, announced the hiring of Susan Homitz, M.S. F-AAA, as the company's newest audiologist. Homitz comes to America Hears from a private practice, where she has worked since 1991, performing diagnostic testing and dispensing hearing aids. At America Hears, she will be performing fittings of digital hearing aids over the phone and internet, counseling patients on product and software use, and providing general customer support.
"I'm very excited about my new position at America Hears, an innovative provider of digital hearing aids," Homitz said. "I am confident that the skills I've acquired over the course of my career in the hearing aid industry will assist America Hears in helping its patients and providing excellent customer support."
Susan has 19 years of experience as an audiologist. She graduated from Indiana University of Pennsylvania with a Bachelor of Science degree in 1986, and received her master's degree in 1988 from Gallaudet University in Washington, D.C. Susan shaped her career working in a private practice, ear, nose, and throat setting where she established herself as a professional in the hearing aid industry.
"We're pleased to welcome Susan Homitz to our team of industry professionals," said Henry Smith, president of America Hears. "She brings 19 years of solid experience as an audiologist and knowledge to the table, as well as an impressive educational background. We anticipate that she will play an integral role in helping customers with our high quality digital hearing aids."
About America Hears
America Hears is a 26-year-old, American-owned-and-operated digital hearing aid manufacturer located in Bristol, Pennsylvania. The company recently introduced its new FreedomAD line of digital hearing aids, which utilizes the latest generation of ADRO hearing aid technology. America Hears is a member of the Better Business Bureau and is an approved manufacturer of hearing aids by the United States Food & Drug Administration (FDA).
###