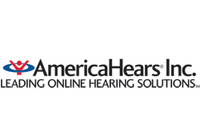 We are happy to introduce Judy Boersma as the latest addition to the America Hears family
Philadelphia, PA (PRWEB) October 30, 2007
America Hears, which manufactures digital hearing aids and distributes them over the Internet, is pleased to announce the hiring of Judy Boersma, MA, CCC-A as its newest audiologist. Boersma comes to America Hears following a career as an audiologist that spans over 15 years and includes work on two continents.
"I have respected and admired Henry Smith and his work with America Hears for years, and I was delighted to become a part of his team," said Boersma. "I truly support the company's mission of making high-quality digital hearing aids available at great prices so that they can reach a broader scope of people who are in need of help with their hearing."
Boersma previously worked as an audiologist at Kerry General Hospital in Tralee, in southwestern Ireland, where she primarily worked with children, fitting them for hearing aids. Before that, she was employed for 15 years with the hearing aid practice of Doctors Culotta, Gallagher, and Gallagher-Braun at St. Mary Medical Center in Langhorne, Pennsylvania.
"We are happy to introduce Judy Boersma as the latest addition to the America Hears family," said Henry Smith, president of America Hears. "Judy's extensive experience, combined with her enthusiasm when working with people, made her a great fit with the America Hears philosophy of putting the customer first while selling high-quality digital hearing aids at a great price."
About America Hears
America Hears is a 26-year-old, American-owned-and-operated digital hearing aid manufacturer located in Bristol, Pennsylvania. The company recently introduced its new FreedomAD line of digital hearing aids, which utilizes the latest generation of ADRO hearing aid technology. America Hears is a member of the Better Business Bureau and is an approved manufacturer of hearing aids by the United States Food & Drug Administration (FDA).
###