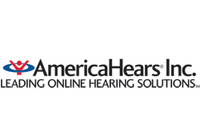 one low price for all models
Philadelphia, PA (PRWEB) October 3, 2007
America Hears, the premier hearing aid manufacturer, is pleased to introduce the company's new pricing structure for its digital hearing aids, offering one low price for all of its hearing aid models, regardless of features. America Hears is implementing the new price structure in an attempt to simplify the hearing aid purchasing process and to enable patients to purchase based on need rather than budget.
Traditionally, America Hears offered digital hearing aids that varied in price based on brand, model and specific features such as power, size and appearance. Today, hearing aid manufacturers and distributors are transitioning to a "one low price for all models" structure in an effort to make the buying process easier for customers. America Hears is also including the company's directional microphone in the price of compatible models for one flat rate. The company's high-quality hearing aids are comparable to high-end products of other hearing aid manufacturers.
Considering that the hearing aid industry is plagued with bait-and-switch tactics, many customers are reluctant to believe that providers are offering the right product based on their needs. America Hears is determined to set itself apart from other providers by selling all digital hearing aids at the same low price so that customers can choose what they need rather than focusing on hearing aid prices. Since America Hears is both a hearing aid manufacturer and a distributor, the company benefits from a production advantage that enables it to adjust its pricing structure based on volume.
"At America Hears, our goal is to provide the best digital hearing aids at the best prices," said Henry Smith, president of America Hears. "As we continue to hit production and manufacturing milestones, it is my pleasure to pass the savings onto our valuable customers."
For a complete list of models and pricing policies, please visit http://www.americahears.com/price.shtml.
About America Hears
America Hears is a 26-year-old, American-owned-and-operated digital hearing aid manufacturer located in Bristol, Pennsylvania. The company recently introduced its new FreedomAD line of digital hearing aids, which utilizes the latest generation of ADRO hearing aid technology. America Hears is a member of the Better Business Bureau and is an approved manufacturer of hearing aids by the United States Food & Drug Administration (FDA).
###