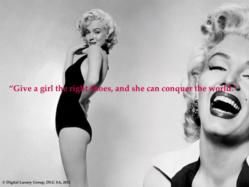 Digital Luxury Group's research is the first digital analysis of the Luxury Shoe Industry
(PRWEB) December 12, 2011
The increasing affinity that shoe lovers exhibit for iconic luxury footwear brands is highlighted in the latest analysis of the Luxury Shoe Industry by Digital Luxury Group (http://www.digital-luxury.com), the first international company exclusively dedicated to the digital success of luxury brands.
"We have been analyzing the online behavior of affluent consumers for almost a decade and have recently identified a significant surge in the demand for renowned women's shoe brands, confirming the sustained growth of the luxury shoe industry", explains David Sadigh, founder and CEO of Digital Luxury Group. According to the Italian luxury association, Fondazione Altagamma, the Leather Goods, Shoes and Accessories product category currently represents the highest international growth ratio (+12.5% in 2011) and is expected to grow by an additional 10% in 2012.
Based on millions of intentions expressed by shoe aficionados searching for luxury footwear products online, Digital Luxury Group's analysis – which covers 57 brands in 7 markets – outlines the following trends:
Market coverage

The US is the most important market for the industry, generating 40% of the demand related to luxury shoes, followed by the UK (14%).
Search patterns
91% of the searches are related to brands.
35% of non-branded consumer intentions are related to shoe styles (boots, ballerinas, high-heels, etc.)
40% of the demand expressed by the US clientele relates to sneakers, even though most of the 57 analyzed brands do not sell sneakers.
Most popular brands
Prada and Gucci combined represent nearly 50% of the demand related to brands listed in the category MAISON.
Christian Louboutin is conquering he Web, with nearly 45% of the demand expressed for brands listed in the SHOE HERITAGE category.
Alexander Wang and Brian Atwood generate 60% of the demand in the NEW PLAYERS category.
Facebook / Twitter
Jimmy Choo and Christian Louboutin communities on Facebook both are 4 times larger than all the other luxury shoe brands (multi-products brands excluded)
Charlotte Olympia and Alexander Wang generate the highest discussion rate on Twitter.
Digital Luxury Group's Luxury Shoe Industry analysis is based on the same methodology as the World Watch Report (http://www.worldwatchreport.com), the baseline market study for the watchmaking industry created by Digital Luxury Group since 2004.
The analysis can be downloaded for free on: http://dlgr.com/shoeanalysis
Additional and custom data related to specific brands and markets are available on request. Please contact shoes/at/digital-luxury.com
Luxury shoe brands included the analysis have been sorted into three main categories:
MAISON (brands created before 2000, shoe business representing less than 50% of their revenues) : Alexander McQueen, Azzedine Alaia, Balenciaga, Bottega Veneta, Celine, Chanel, Chloe, D&G, Dolce & Gabbana, Dior, Givenchy, Gucci, Isabel Marant, Kenzo, Lanvin, Louis Vuitton, Marc Jacobs, Marni, Miu Miu, Prada, Ralph Lauren, Stella McCartney, Valentino, YSL
SHOE HERITAGE (brands for which shoe making is their core business) : Bally, Casadei, Cesare Paciotti, Ferragamo, Fratelli Rossetti, GianMarco Lorenzi, Gina, Giuseppe Zanotti, Hogan, Jimmy Choo, Kurt Geiger, LK Bennett, Christian Louboutin, Manolo Blahnik, Pierre Hardy, Pura Lopez, René Caovilla, Roger Vivier, Sergio Rossi, Sigerson Morrison, Stephane Kelian, Stuart Weitzman, Tod's, Walter Steiger
NEW PLAYERS (brands created after 2000, considered as trendsetters by their peers) : Alexander Wang, Alexandre Birman, Brian Atwood, Camilla Skovgaard, Charlotte Olympia, Derek Lam, Gianvito Rossi, Jonathan Kelsey, Nicholas Kirkwood, Reed Krakoff
Analyzed markets: US, UK, France, Italy, Germany, Brazil, Japan.
About Digital Luxury Group (DLG)
Digital Luxury Group is the first international company dedicated exclusively to the design and implementation of digital communication strategies for luxury brands. For over ten years, DLG has developed a unique expertise and currently provides services to clients in Europe, North America, Asia and the Middle East.
###